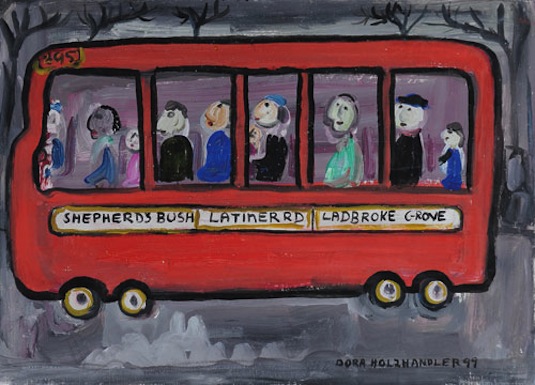 'I became a Buddhist in the 1950s , but I'm also Jewish and I don't have a quarrel with that – I don't feel I can only be one or the other.' Artist Dora Handzholder's primitive style may not be to everyone's taste but at 84 she seems to have achieved an enviable joy in life.
'In many ways I turned to Buddhism because of its teachings of basic kindness, hope and love for all people, and in doing so it brought me back to Juddaism…In 1934, when I was six, we moved from Paris to the east end of London. Now I look back and think that if we hadn't left when we did, we'd have been sent to Auschwitz.'
'Sometimes it's hard to describe what my paintings are about , but in their simplest form they are about people … and more often than not they centre on everyday life in all its simplicity and richness – mothers playing with their children in the park, picnics in flower filled-gardens, families sitting down to eat, lovers in tight embrace, it's a happy secure world. Some people label my work as a form of naïve or primitive art because they say it's childlike. And in many ways, it is. But it is just what comes out of me.'
Dora and her husband celebrated their 60th wedding anniversary recently. George 'does all the cooking, so maybe we'll have a tin of mushroom soup, salad and fish fingers, followed by raspberries and cream.'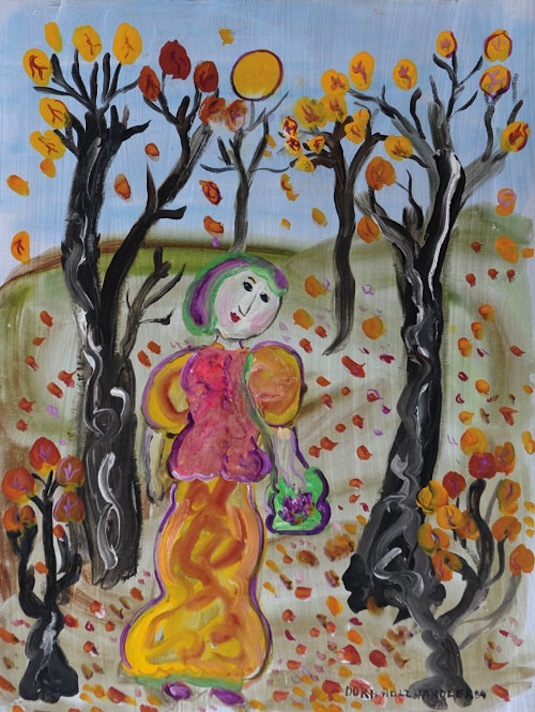 Dora is the mother of three daughters – Amalie, Hepzibah and Hermione – and recalls that during their early childhood in London and then rural Scotland (where the extended family lived in a large country house near Dumfries, with a beautiful walled garden of roses), she loved to paint in the afternoons while they slept or rested.
These days she lives with George near Holland Park and often they visit Westfield shopping centre for lunch and then share the iPod earphones to listen to Buddhist meditations as they watch people go by.
'Before bed I'll say a little prayer and hope tomorrow is filled with as many little moments of joy as there were today.'
An exhibition of Dora's paintings is at the Goldmark Gallery, Uppingham, Rutland until April 23. 
Excerpts From a Day in the Life of …The Sunday Times – Interview by Ria Higgins