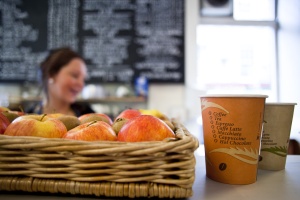 Trends in lifestyle and interiors come and go; each season heralds the next big thing whether its neon, folk or  yet another outing for tartan.   But some brands have transcended (or ignored) fashion to stand the test of time without Madonna-style reinventions. The three establishments featured here, all, coincidentally with a hippy vibe in common, are doing something they believe in without taking themselves too seriously.  They offer cosy, relaxed interiors and all serve good food.
Henderson's of Edinburgh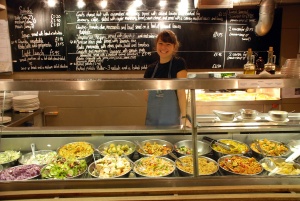 Vegetarian restaurant Henderson's has clocked up nealry 50 years of attracting Edinburgh locals and visitors.  Janet and Mac Henderson opened in 1962 to retail the produce from their East Lothian farm.  Their philosophy is 'serving cuting edge vegetarian cuisine while remaining true to the founding philosophy of serving delicious, wholesome food, using the best and freshest ingredients, and all at affordable prices.' The restaurant in the basement of Henderson's (there's also a bistro, deli and a recently opened gallery) has white washed walls, wooden tables and terracotta floors, all lit by the  tealights on the tables.  On the night we visited we were able to drink wine and watch live jazz till midnight. And, best of all, as we took our leave in the small hours, we were offered just-out-of-the-oven, freshly baked loaves of bread.
The Ceilidh Place, Ullapool, Wester Ross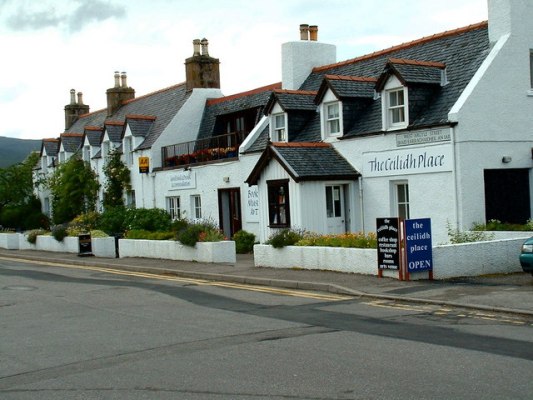 Way up in Ullapool in the north west of Scotland, The Ceilidh Place has a similar laid-back feel to Hendersons.  It was started in 1970 by actor Robert Urquhart who was born there in 1921.  He opened a small cafe in the boatshed with aspirations that it become a place for eating, meeting, talking and singing. Urquhart wrote, 'A sign outside invited musicians to sing or play for their supper.  If they were good, their supper could take some time.  Few were served quickly.   Local staff were assisted by others from across the globe who miraculously found their way to Ullapool and gave of their skills and ideas.  There were customers who became staff and staff who became customers.'  From their Highland location, sourcing food locally is taken seriously: 'We are conscious of our carbon footprint and delight in getting fish from the pier, tatties from the lochside and herbs from the garden.  We have yet to crack the bananas!'
Pillars of Hercules, Falkland, Fife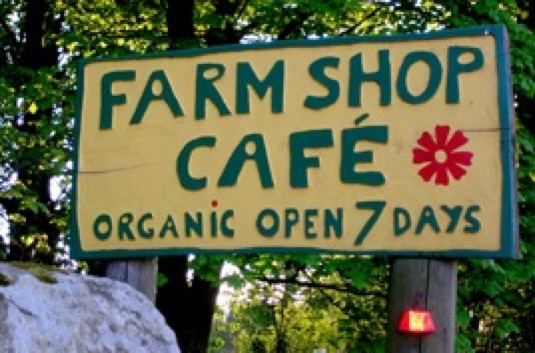 Near the delightful village of Falkland in Fife, Pillars of Hercules is an organic farm, shop and cafe housed in a large log cabin. There's outside seating on the wide verandah or on wicker chairs in their orchard. Not surprisingly the interior is rustic with lots of honey coloured solid wood and the cafe is decorated with bunches of organic wild flowers grown on their farm. Established in 1983, the farm has grown from one hectare to six. One evening every month Pillars opens its doors for a three course dinner with live music, and even better, you can bring your own booze. Enjoy!