Dunfermline Live, back on Saturday 18 October to rock Scotland's ancient capital, has its best line-up yet. Festival favourites such as headliners Embrace, King Creosote, Eugene McGuinness, Hector Bizerk, Dexters and AMWF will perform alongside  emerging talent such as The Merrylees, Vigo Thieves, Scary People, Neon Waltz, Modern Faces and The Moon Kids.
This year the event presents a packed one day schedule of quality acts playing at six venues all within easy walking distance of each other. Tickets are £20 and guarantee entry to headliners Embrace as well as allowing music fans to wander from bar to bar enjoying their favourite sounds.
Embrace frontman Danny McNamara believes Scottish music fans are the noisiest in the world and is looking forward to his first visit to Dunfermline. With three previous number one albums, the Yorkshire band this year made a successful return after a seven-year absence with their self-titled album reaching number five in the UK charts. "When we were asked to headline the festival it was a no-brainer really. There's Embrace fans coming from London, from Yorkshire, from all over so it should be good.'

Dunfermline Live organiser Calum Miller said, "We've been able this year to go out and get some of the best up and coming bands from across the UK along with well-established acts. It's going to be one of the best days of music Dunfermline has seen for a long time. The amount of quality in just one day is superb. Dunfermline's a beautiful place, a historic town, and to see place buzzing with live music on the day is going to be fantastic.'
Gifford Bruce, of main sponsors the Alfred Stewart Foundation Ltd, said, "This year's Dunfermline Live will attract music fans from Glasgow, Edinburgh and further afield into Dunfermline which is a great for local businesses and will also give young local bands an opportunity to showcase their talents. It's great to see ticket sales going so well.'
For tickets and full line up, click here.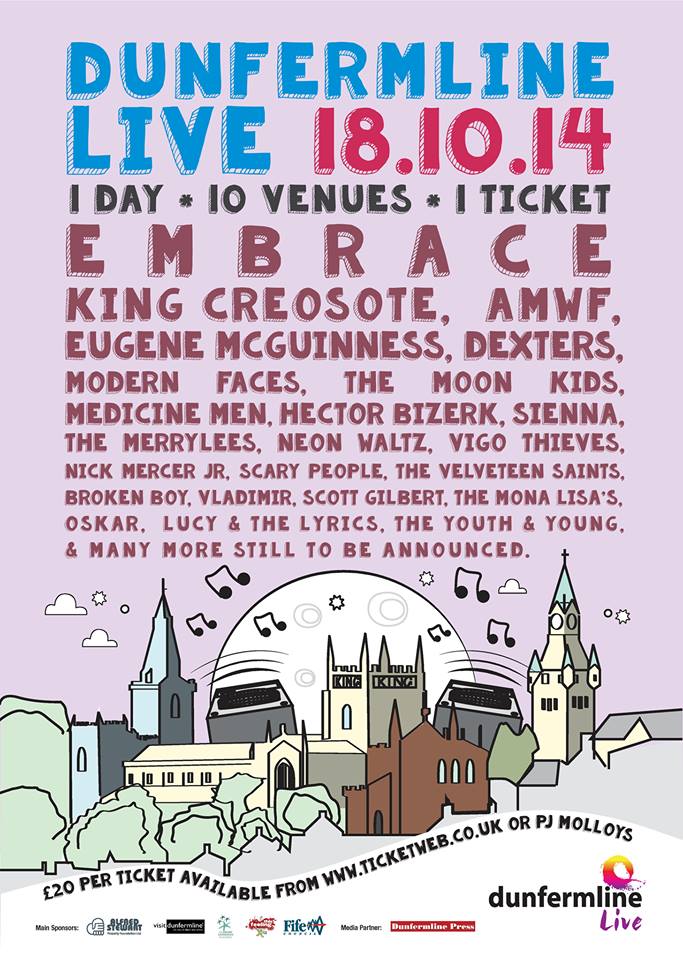 Contact:
Calum Miller
07810 878083
Calum@weekendrevolution.co.uk