CoBrA was an artist group formed in 1948 by artists from Copenhagen, Brussels and Amsterdam whose painting style was highly expressionist and inspired by the art of children. The name is taken from the first letters of Copenhagen, Brussels and Amsterdam where the group's founder members lived.  As a group they had active social and political concerns and felt paintings 'should appear on the canvas as naturally and quickly as a sudden change of weather in the world beyond the window…be as impersonal as a thunderstorm'.
Founding members of CoBrA were Karel Appek, Asger Jorn and Constant Nieuwenhuys but their number also included two prominent artists who had something in common: they were both originally from Fife.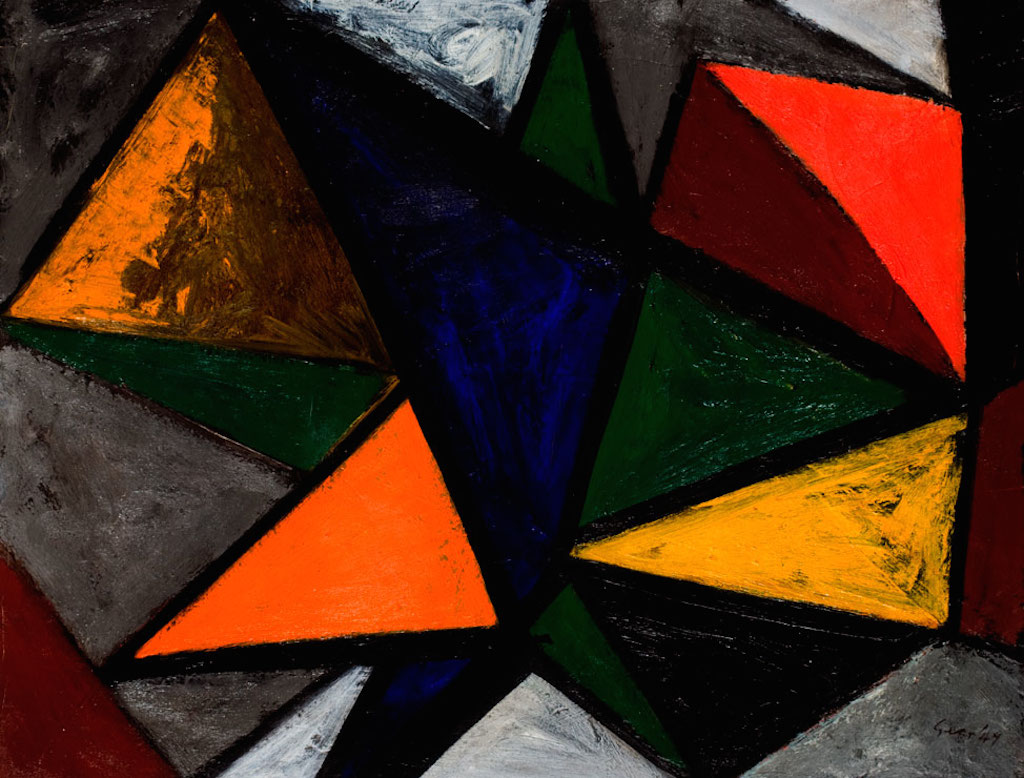 William Gear was born in Methil on 2 August 1915, the son of Janet Gear and Porteous Gear, a coal miner. He studied at Edinburgh College of Art from 1932-6 and Edinburgh University from 1936-7. Having won a travelling scholarship, he then visited Italy, Greece and the Balkans before going on to study in Paris with Fernand Leger. Gear served throughout the Second World War as an officer in the Royal Corps of Signals including a stint with the 'Monuments Men'. In 1947, he settled in Paris where he met many of the leading post-war Parisian artists.
Outside of his association with CoBrA, Gear had a long and successful career in his own right. For example, he was awarded a Festival of Britain Purchase Prize in 1951 (the work Autumn Landscape, above, caused an outcry at the 'waste' of public money) and his work appeared at the 1954 Venice Biennale. He was the Towner Gallery's curator from 1958 until 1964 with the  gallery being described at that time as the 'most go-ahead municipal gallery of its size in the country'.
Gear became a Senior Royal Academician in 1995. His work,  from the pen and ink drawings and early experiments in colour of the 1930s and 1940s, to the near-monochrome and block abstractions of the 1950s and the mature exuberance in the 1960s and beyond, is held in many major public and private collections around the world.
Stephen Gilbert was born in Wormit on 15 January 1910. He studied architecture at the Slade School in London from 1929 to 1932 and exhibited at the Royal Academy in 1936. He moved to Paris in 1937 before, having failed a medical for military service, spending the war in Ireland where he joined  The White Stagg Group of refugee artists.  He returned to Paris in 1946 and his work (above and below), which featured  fantastic creatures and plants painted in vivid colours, soon attracted the attention of CoBrA . He was included in the first issue of the group's journal and participated in both of its major exhibitions: the Bregnerod Congress in August 1949, where he worked on the collective mural, and the Amsterdam exhibition in November of that year,
During the 1950s, Gilbert concentrated on three-dimensional and architectural forms, formed from sheets of aluminium. He was also a founder of the Neovision group and worked with experimental architect Peter Stead. He received a Gulbenkian Award in 1962 and the sculpture prize at the Tokyo Biennale in 1965. Examples of his work are held by many public collections. Stephen Gilbert died in 2007.
There are just a few days left to catch the William Gear exhibition currently on show at The City Art Centre in Edinburgh.  The exhibition is called 'The painter that Britain forgot' and is timed to coincide with the centenary of Gear's birth. It aims to 'position William Gear in his rightful place as one of the most advanced British abstract painters of his generation'.
You can also find out more about William Gear in an excellent essay by the Fife Psychogeographical Collective. Read it here.