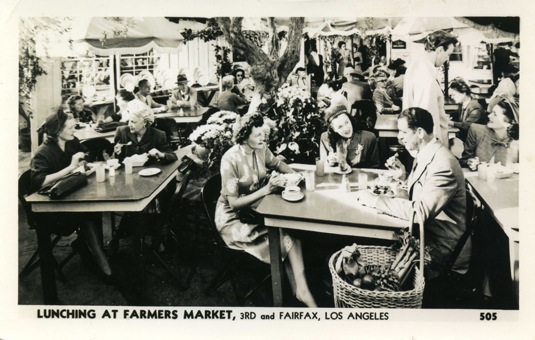 'Meet me at the corner of Third and Fairfax' is something Angelenos have been saying to each other for years. It's even the name of one of 2011 America's Got Talent finalists, the pensioner duo who met at a karoake bar on said corner.
The  location is also the site of LA's oldest Farmers Market, described by Not For Tourists LA as 'one of the best melting pot LA experiences around'. There are lots of tourists but also generations of locals at the market both as stall holders and customers. In a city often accused of being impersonal, this slightly ramshackle venue has personality. Eating and drinking rather than shopping seems to be why most people head to the Market; the retailers are a random mixture of outlets selling souvenirs, shells and candles.
And it's the food rather than comfort that draws the people; the wooden stalls, rackety chairs and tables appear to have changed little over the years.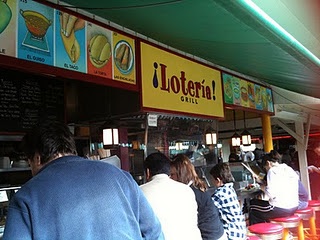 And if you are looking for table cloths and nice silverware then this is not the place for you. It wasn't possible to try every cafe but Loteria Mexican Grill serves excellent sample platters. The food emerging from Singapore's Banana Leaf place looked delicious. Little Spain was the disappointing exception serving overpriced tapas bulked out with fries.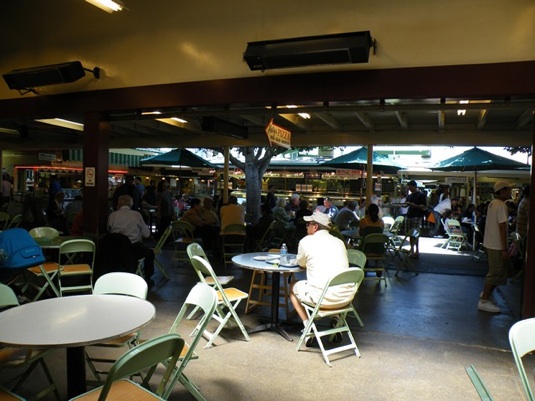 The Market started in 1934 with farmers pitched on a dirt track selling vegetables and fruit from the tailgates of their pick up trucks. Some of today's traders have been there since the start. Magees descended from Magees Kitchen set up in the 1930s.  Bob Tusquellas, who owns Bob's Coffee & Doughnuts, Tuesquellas Seafoods and Tusquellas Fish & Oyster Bar, started working at the market nearly 60 years ago as an 11 year-old waiting on customers at his dad's shop.  The LA Times found grandmothers who had been meeting there since they were young mothers.
As well as generations of ordinary people there is the occasional famous visitor. James Dean reportedly ate his last breakfast here. And The LA Times reported that President Eisenhower visited Magee's House of Nuts. The Beatles visited and an appearance by Shirley Temple was so crowded that the fire department carved a hole in the roof to lift her out.
When The Grove, an outdoor shopping mall, which recreated a disneyesque Main Street USA with trolley rides and dancing fountains, opened next door in 2002 opinion was divided. Some locals worried it would ruin the historic farmers market. In fact it has probably revived it as Grove visitors also take in the Market. And there's no denying that The Grove is a popular day out for residents.
So, next time you are in LA you might find yourself saying to your friends 'Meet me at the corner of Fairfax and Third'.