Linking the east of Edinburgh's city centre to Leith is Easter Road, an area sometimes dismissed as bit grungy but one that's full of life and much beloved of its residents. At the top of the road is popular local hangout The Manna House Bakery which offers 30 types of handcrafted breads and authentic European pastry delicacies freshly baked in store each day. With a New York, Sullivan St Bakery vibe, it's cheaper than comparable places in more chi chi parts of town and has tables and chairs inside where you can linger over a good cup of coffee.
Across the street is Eero and Riley, a colourful establishment stocked with a well chosen selection of gifts, home accessories and stationery. It sells well known brands such as Umbra, S&P and Shearer Candles as well as items handmade in Scotland.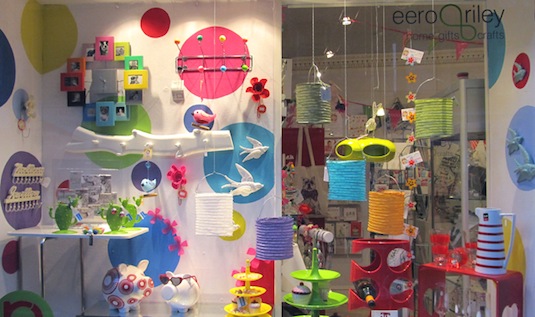 Cornelius Beers is an excellent little wine shop which sells one of the widest selections of beers in the UK and a diverse winelist at competitive prices. Owner James (pictured below with son Alastair) says, 'we have tried to avoid the familiar and instead choose a shopfull of drink we can get excited about.'
If you're looking to furnish your home without breaking the bank, this is the part of town you need to check out. Jimmy Kings Second Hand Furniture Place is stuffed with home appliances at knock down prices while AA Traders is one of those fast disappearing treasure troves of a hardware shop selling everything from cheese graters to shower curtains. Avocado Sweet favourite Bra Bohag is also worth checking out for good examples of reasonably priced, quality mid century furniture and art.
For eating out, Rivage serves, according to locals, the best Indian food in the city while Al Dente is a popular, if tiny, Italian.
They serve food they describe as 'pure Italian, unadulterated by cream or pre cooked pasta'. They must be doing something right because one customer said after her visit, 'After coffee I floated up Easter Road full of the light, warmth and sheer joy of Italy.'
***
Many thanks to Easter Road native Louice Lusby Taylor for the inside track on her neighbourhood.