---
Artists, more often than not, get the credit for bringing creativity to a neighbourhood. Rarely do hairdressers get acknowledged for their creative input to high streets up and down the country. In Dunfermline, Fife, Craig Hutchison has been particularly resourceful in shaping the interior of the shop that he shares with colourist, Clair Karran. Where ever possible he has tried to use local artists, tradespeople and suppliers at Vollood Hair and Beauty, now a very different prospect from golf shop it once was. The frontage is about to be covered with Scottish larch from Scottish Wood, near Oakley, which will weather to a silver grey, while tables and shelves are being constructed with wood from the Oakley company.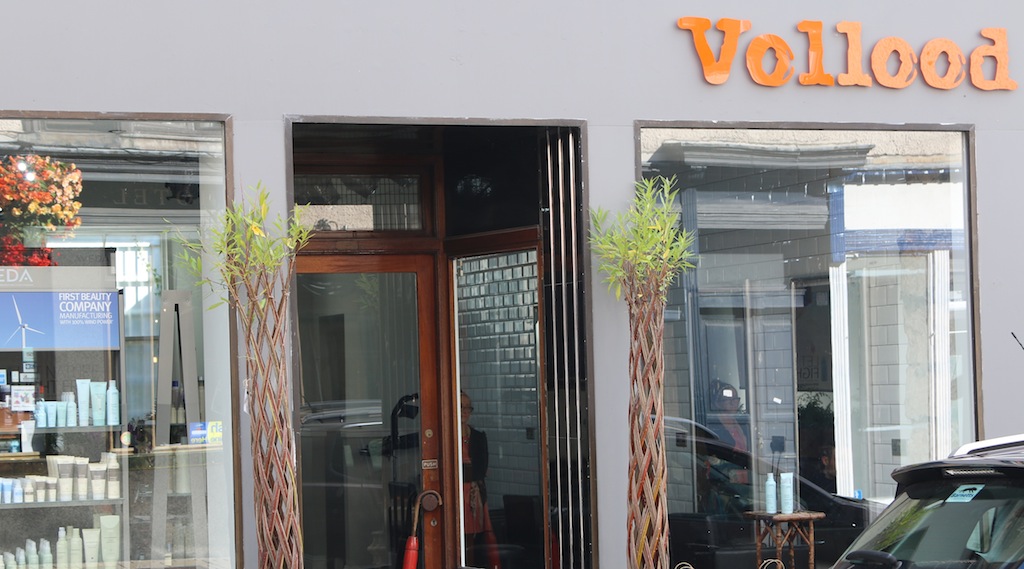 A local car garage, Trix, was even drafted in to mould and weld metal poles from Ebay as frames for the Ikea mirrors; the industrial theme continues with ceiling lights bought off Gumtree for £10 each. Visits to a local auction house proved fruitful; the tiny intricate sewing chair pictured below, along with the leather chesterfield suite and ceiling lights (last pic), to which Craig added fashionable filament bulbs, below were all bargains from J & P Auctions. The pair of upright chairs below, which were being sold off by a snooker hall for £10 each, were re-upholstered and painted with charcoal paint from Sonia Holloway of Holloway Interiors, Aberdour. Beautiful prints and silk scarves are produced by a Dunfermline couple Jewel in her Crown, who featured on Avocado Sweet in 2012; it is their trio of striking prints that hang on the wall. Craig went further afield for the chimney pots, a salvage yard in Montrose, aptly named, Steptoe's Yard.  All of these elements were brought together with help from joiner, Warren McInnis.
The internet may find a way of cutting hair, but, until then, salons continue to bring people and creativity to our high streets.