A few months ago we moved from Dunfermline to Culross. Writing this, the view is of the slate and pan-tiled roofs of the various NTS-owned houses as well as our tallest building – the towered Town House – where questionable justice was meted out on a regular basis to thieves and adulterers. And it feels appropriate that a public building is the one that sticks out, that overlooks our everyday lives, keeping a quiet weather eye on what's going on.
In Dunfermline we've got a similar situation with the police station sitting close to the middle of the town, ready to disgorge its inhabitants to keep the peace. Of course, Dunfermline never feels especially dangerous (apart from on a Saturday night perhaps) but it feels right having the police station close by. It's the same with the other public buildings, like the council offices, theatres, museum, library, churches and the old Fire Station (which was slap bang in the middle of town until the financial decision – always financial, never practical – was made to move it to an industrial estate more than a mile outside the town centre). I'd love to see the College take a leap of faith and move into the Pilmuir Works building. Imagine how good that would be for the town! Better than bloody Tesco…
By necessity the buildings these public functions are housed in tend to have a certain scale, clearly signalling them as moral landmarks in the urban landscape and subconsciously letting us know that we're surrounded by justice, education, culture and political and religious thought. This is implicit in any almost settlement you will ever visit.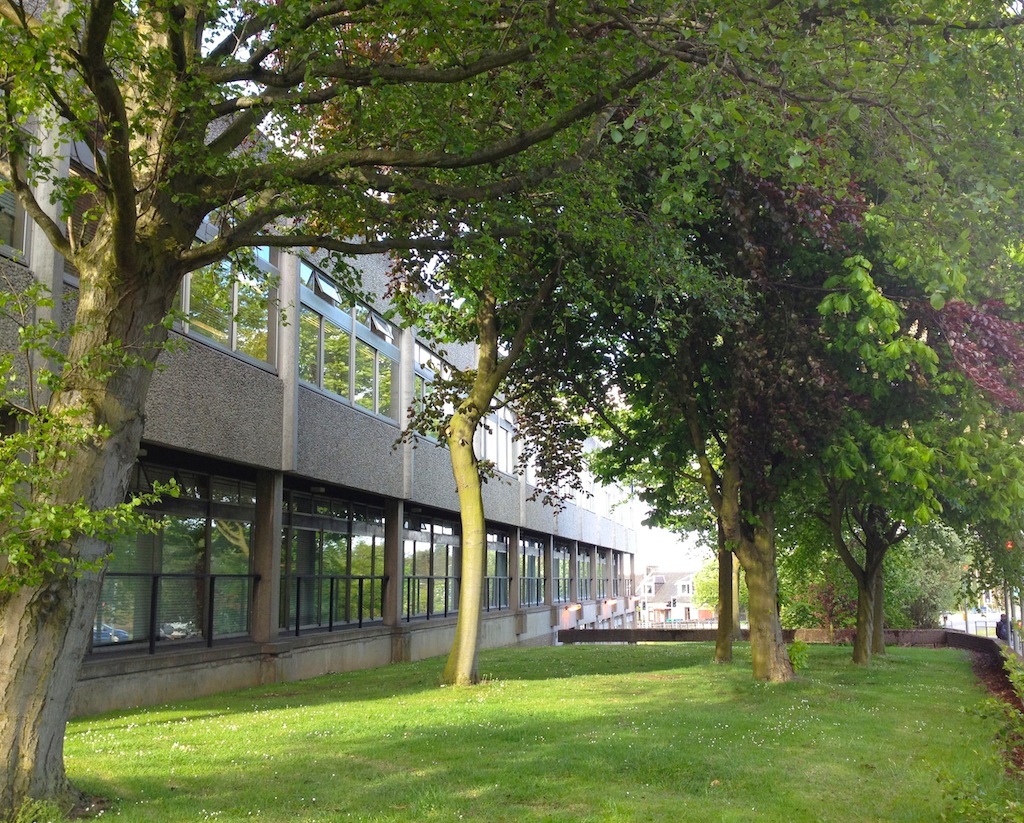 Which brings us back to Dunfermline police station. Built in 1973 to designs by Robert Thomson Morris (1921-1984) and Harry Williams Roy Allan (1919-2004) of the architects' department of Fife County, the police station is pretty much the first building you come upon as you reach the top of St. Margaret's Drive. Its repetitive, expressive concrete structure and brick infill, large plate glazing and stereotypical 1970s coloured glass panels make it clear that this is A Public Building. Despite having a completely different architectural palette it works in tandem with Carnegie Hall to create a suitably grand civic welcome to the east end of the centre of Dunfermline.
But it isn't in your face: being sunk down a floor, only two of the three storeys are visible from the roundabout, and a row of carefully chosen trees at the east end of Carnegie Drive mask the true length of the building. The building seems to send out a quiet, clear message: Welcome to Dunfermline. We're watching you. But more in an Inspector Clouseau way than Big Brother…
There have been rumours of the police station being relocated so that a supermarket can be built on the site. What an awful introduction to a town centre! Public buildings should be built in public places, and the police station is one of our finer examples.