Newcastle may be home to the best hen and stag weekends in the country but you don't need to don your pink feather stetson to enjoy this brilliant area.
Not necessarily a weekend destination in itself Corbridge is still worth the 30 minute drive west of Newcastle if you fancy a trip into the countryside to visit some interesting independent shops and have a good choice of eating places.
It is a prosperous looking place  – not many towns have petrol stations that sell the US edition of Elle Decor.
One of the really interesting shops, hidden behind that petrol station, is RE which is making a name for itself in the national interiors press. Owners Jenny Vaughan and Simon Young started the shop in 2003 and by 2011 had beaten off the London competition to win Homes & Gardens Designer Award. RE sells a genuinely eclectic range of original and recycled items, found objects and relics. You're likely to find anything from gorgeous, locally made textiles to a plaster Virgin Mary in stock. RE's most recent coup is to be invited by Liberty of Regent Street  to open a permanent concession on the 4th floor in mid-March 2012. (The Corbridge shop is closed on Mondays.)
For something to eat or just a beer, consider gastro-pub The Angel Inn which, for warm sunny days, has seats outside. Artisam, an upmarket chinese restaurant and Il Piccolo, an Italian have also been recommended by Avocado Sweet's local contact, Lesley Manners. There are also plenty of tea rooms if you are looking for a snack or something less expensive.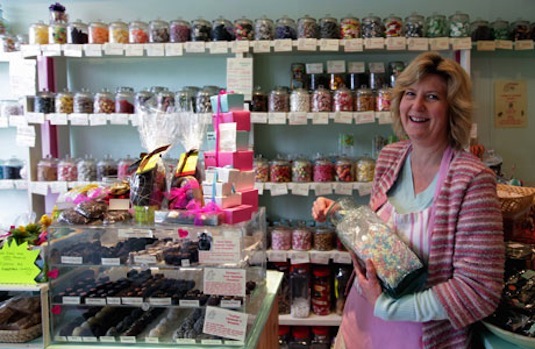 To round off Lesley's Corbridge tips, Skrumshus is an old-fashioned sweet shop which was opened by Frances Holmes in 2007. For every £1 donated by customers they are sending £2 worth of sweets to troops in Helmand. The latest total came to 329 kg.
Coming up next in our North East series are recommendations for the centre of Newcastle  – so don't ditch the pink stetson just yet.