Aged 82, Yayoi Kusama's largest UK exhibition of her work opens today, 9 February at Tate Modern, London. Earlier this year she also announced a design collaboration with Louis Vuitton. At the start of her ninth decade her profile in the west may be about to equal her position as Japan's most prominent contemporary artist.
To the public, her art looks fun, and it is, but the work is very much a product of her struggle with mental health problems over the years. In 1977 she voluntarily checked herself into a psychiatric institution and has lived there on and off since.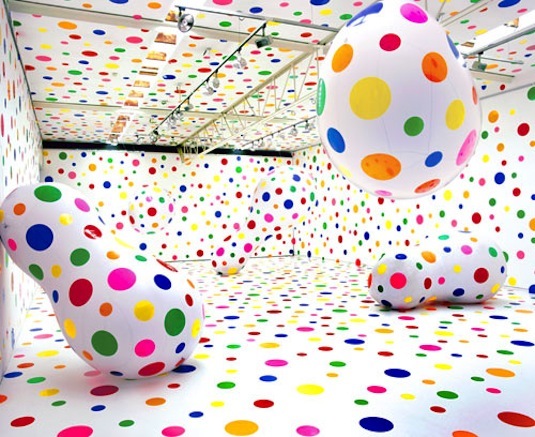 Her mental health is perhaps also the key to why she has been less famous here. Curator of the Tate Modern show Frances Morris explains: 'Kusama has been ahead of the game almost continuously in different ways. But one reason she's not a superstar in the west is that she never hung around at those moments, she doesn't embed herself as the key player. She never stayed in one place long enough for that accrual of status and connectivity.'
'When Kusama was living in New York she was at the centre of the art world in the 1960s, she came into contact with artists including Donald Judd, Andy Warhol, Joseph Cornell and Claes Oldenburg, influencing many along the way. She has traded on her identity as an "outsider" in many contexts – as a female artist in a male-dominated society, as a Japanese person in the Western art world, and as a victim of her own neurotic and obsessional symptoms. After achieving fame and notoriety… she returned to her country of birth.'
Kusama may not have managed a linear rise to international fame as efficiently as her male counterparts but, at 82, a Tate Modern exhibition and being feted by Louis Vuitton, shows she's now she's well and truly in the spotlight.
The exhibition runs from 9 February and runs till 5 June 2012.