Mike Small started the Fife Diet in 2007, a campaign to eat locally sourced food. Forty years ago he would have had his work cut out; chips, white bread, macaroni cheese pies, scotch pies topped with baked beans and mashed potato, and everything cooked with cloak of  batter or pastry.  Fast forward to 2011 and the Fife Diet is not a sitcom joke but a healthy, tasty selection of organic vegetables, locally reared high quality beef, dairy with guaranteed provenance and a plethora of scottish berries.
It all started with a prawn.  Mike Small was so incensed that prawns, caught in Scotland, were shipped halfway round the world to Thailand for shelling and packing, only to be shipped back for sale in the UK, that he felt he had to do something, according to an interview in Scotland on Sunday.
In October 2007 the politics lecturer and writer who lives with his family in Burntisland,  started a year of eating only food sourced from his own county.  Later the diet was fine tuned to a split of 80% local food and 20% from sustainable, fair trade sources which could include tea, coffee, rice and spices.  The source area was also widened from just Fife to include beer from Clackmannan and wine from Perthshire.  Considering that currently 80% of food in Britain is imported and 20% is locally produced even Mike's revised target seemed ambitious.
Food provenance is one of the most important trend of recent years.  Sales of local food have grown much faster than sales of other premium categories such as organic or Fairtrade, according to IGD, the industry research body.  It was the one type of food that flourished during the recession, as shoppers chose to support their local shops and suppliers.  However, in 2007 Mike was an early pioneer and he prompted some incredulous reactions including accusations that his campaign was damaging to third world farmers and how would his children manage without sweets for a year.
Four years into the campaign and the Fife Diet has recruited many followers.  The more manageable 80/20 rule allows people to include what they said they would miss most such as red wine, chocolate, bananas and citrus fruits and still reduce their carbon footprint: most thought they could manage for a year without eating a mango. Following the diet requires some organisation so that you eat what is in season and stockpile fruit and tomatoes in the summer for use in winter.  With hindsight Mike admits that starting their year in October wasn't best timing.
Mike and the campaign make it easier for people to follow the Fife Diet with advice on their website and practical training at free workshops.  For instance, on the 5 July local herb expert and plant-wise woman, Elspeth Killin will be leading a day of training and cultivating culinary herbs at Broomhill Gardens. Email elly@fifediet.co.uk for more details.
New Hopetoun Farm Shop Sells Scottish Produce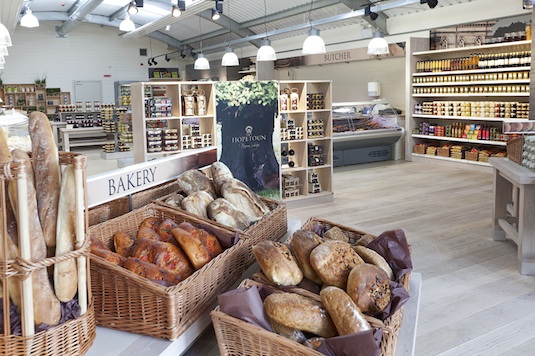 Close to Fife is the latest farm shop supplying only Scottish produce; Hopetoun Farm Shop was opened by Lord and Lady Hopetoun in May 2011.  Cider from Dumfries, cheese from Anstruther and other products such as bread and pastries are all from Scottish suppliers.  Most of the meat is raised on the Hopetoun estate itself; beef is from Hopetoun's own pure bred herds of Aberdeen Angus Cattle; three breeds of sheep provide a range of flavours and chickens and turkeys are all home bred on Hopetoun's farms.  Game from the estate includes venison from Roe and Red deer herds, rabbit and pigeon available all year round and partridge and pheasant from Hopetoun Home Beat in season.