Products are increasingly made from unlikely materials; bicycles carved from mahagony, toilets built from poo, bridges constructed with cardboard, bathmats made from moss and sun loungers made from cork.  It's quite possible that a designer is probably already working on a tea pot made from chocolate that doesn't melt. Designers have risen to the sustainability challenge by recycling products from all sorts of materials that don't appear fit for purpose but seem to work.
A ninth-generation shipwright, Sueshiro Sano has been making bikes constructed entirely of mahogany since 2008. Sano believes that mahogany lends flex and responsiveness in a way no metal frame can.  Eleven bikes later and the designer has made improvements shaving the weight from 11 kilograms to around eight.
A toilet made from poo is Virginia Gardiner's energy generating idea for use in developing countries.  The LooWatt is a waterless toilet system that transforms human waste into energy.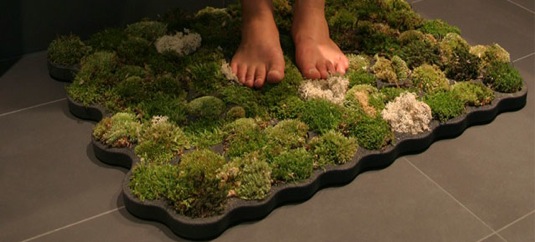 Made from a decay-resistant foam called plastazote, this bath mat is a nursery for three varieties of living moss; the humidity and dripping bodies keep the moss watered. Designed by Nguyen Le Chanh.
A bridge made from cardboard is designed by architect, Shigeru Ban.  The bridge was built in 2007 in Remoulin in France and can hold up to 20 people at once.
Cork is commonly used for recycling but this is first sight of it being used to make a sun lounger.  Designed by Daniel Michalik.