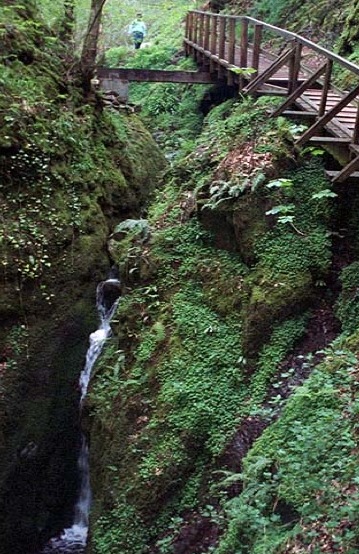 Our first day out is to Dollar Glen in Clackmannanshire and then on to Bridge of Allan near Stirling.  For those unfamiliar with the area here is proof that you don't have to travel all the way to the Highlands to enjoy beautiful scenery.  Just 25 miles north of Edinburgh, the pretty village of Dollar has a glen with a river and waterfalls that you can walk beside to reach Castle Campbell at the top.  If you pay Historic Scotland the entry fee, you can sit in the terraced gardens admiring the spectacular view on a clear day.  Someone also had the clever idea of having three options for parking your car, in the streets at the bottom for the longest walk, a car park half up for the less ambitious and then a small car park at the top which entails a short if hilly walk to reach the castle.   For coffee and cake Cafe des Fleurs in the main street of Dollar is good although not always open on a Sunday.  The owner, Ainsley Anderson, bakes the scones fresh every morning.
About a half an hour drive from Dollar is Bridge of Allan, a small attractive well-heeled town, home to Scottish premier league footballers and Stirling University.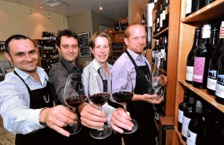 A nice bottle of wine can be bought in wine specialist, Woodwinters for around £5 or more if you wish.  With friendly and knowledgeable owners and staff including our contributing wine columnist, Shane Dunning and tasting notes printed off with your purchase it's a much nicer experience than buying wine in the supermarket.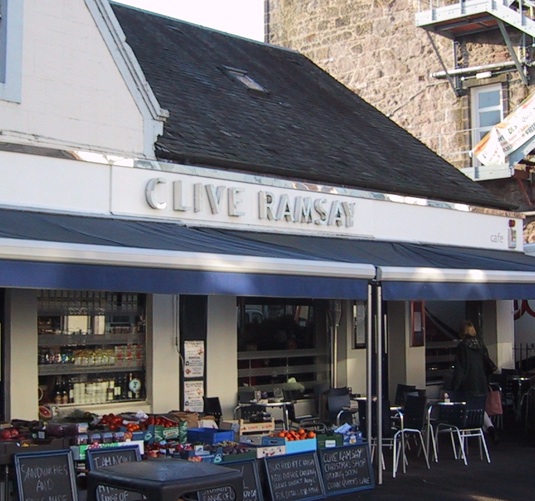 Henderson Street, the main street in Bridge of Allan has other independent shops including Clive Ramsay's delicatessen and an interesting florist called Moss.  For eating there's Adamos Hotel which, surprisingly for a small town, has a nightclub. Clive Ramsay's restaurant or fish and chips and icecream across the road at the Allanwater Cafe, established in 1902 and run by four generations of the Bechelli family, are other options for food.
We'd love to feature your recommendations for days out – drop us a line!