If you go down to Valleyfield Woods in Fife you'll find a charming woodland with twisting walks, a tumbling burn and, in spring, carpets of snowdrops and bluebells. Look closer however and you'll find that you are walking in the ghostly footprint of a very different environment – once so vividly present and now almost entirely vanished. A fine classical mansion stood here, grand enough to cast Downton in the shade. The house, depicted above by Alexander Nasmyth, was home to the Preston family and, on inheriting the Baronetcy of Valleyfield in 1800 and having made a vast fortune through trade in the East Indies, 7th Baron Sir Robert Preston set about improving the estate.
Preston commissioned legendary English landscape architect Sir Humphrey Repton to create a romantic parkland around Valleyfield House. It was apparently Repton who coined the term 'landscape architecture', seeing it as combining the art of the landscape painter with the skill of the architect. Valleyfield was Repton's only work in Scotland and he created a magnificent landscape with ornate terraces between the house and its landscaped park. When designing a landscape, Repton would produce 'Red Books' of the estate, slim volumes that became his trademark and there is one such book for Valleyfield. Remains of the flower garden are still in evidence, notably its walled surrounds, and a large hollow at the foot of the garden shows the location of a linear pond known as the canal.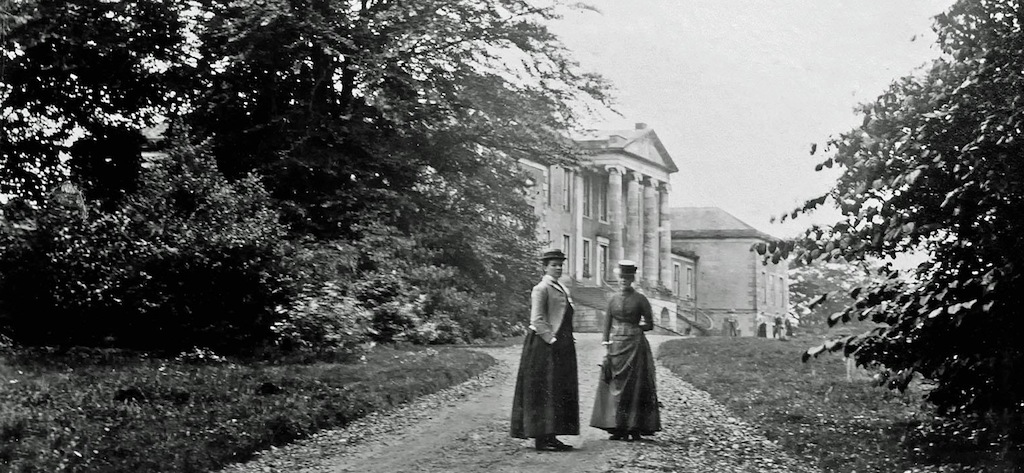 Sir Robert Preston, or 'Floating Bob' as he was known, was born in 1740 and became a merchant and philanthropist. He was quite a character. Well connected socially both in London and Edinburgh, his circle included William Pitt the Younger, Sir Walter Scott and James Boswell. He also knew the famous painters of the day such as Alexander Nasmyth and JMW Turner. He was known for his big appetite with Walter Scott commenting, 'he is as big as two men and eats like three'. Yet he also donated food to the poor and provided financial help to those in need locally. Like Sir George Bruce, who built nearby Culross Palace and whom he was keen to emulate, Preston developed local salt works and coal mines. The mines, at Preston island near Torryburn, were abandoned following the Valleyfield Colliery Disaster in 1939 in which 35 men died.
Another name associated with this now modest spot is David Douglas who was an apprentice to the head gardener Alex Stuart. Douglas lived in a stone cottage which still stands as a ruin at the edge of the wood. At Valleyfield, he made good use of Sir Robert's extensive library of botanical books before setting out in 1823 to North America to collect new varieties of trees and shrubs. The Douglas Fir is named after David Douglas and he is credited with introducing more than 240 new plant species to Britain. He met a terrible end in 1834 in Hawaii when he fell into a pit dug to capture wild cattle and was gored to death by a trapped bull. He should have stayed in Valleyfield.
Throughout the wood there are traces of what must once have been: rhodendrum lined walks along which ladies in long dresses would have swished as they took their daily constitutional; an ornamental bridge, rustic arch, the walled garden and what would once have been a graceful flight of stone steps that now leads nowhere. The foundations of the great house, the gardener's cottage and an ice house can also still be traced by those who know where to look.
The Baronetcy of Valleyfield became dormant in 1873 following the death of the ninth Baron. The house then fell into disrepair and was demolished in 1941. If you would like to explore this ghost of faded grandeur, The Valleyfield Heritage Project, founded in 2011 to campaign for the restoration of the old estate, offers guided tours as well as working tirelessly to rescue what remains.