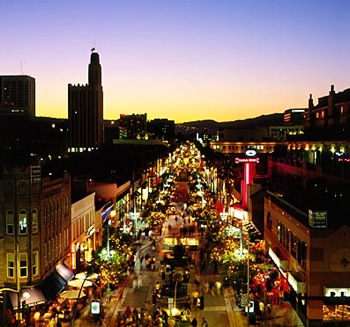 Dorothy Parker said that "Los Angeles is 72 suburbs in search of a city" Embracing this fact means that you can start to enjoy the city which spans nearly 500 miles. One suburb, Santa Monica actually has a town centre, Third Street Promenade, which is pedestrianised no less, with a pier and a beautiful beach all in close proximity. For visitors this is an easy 'to get your head around" area of Los Angeles. Angelenos like the Saturday Farmer's market but otherwise some think the area is way too touristy. You can understand why; Third Street has the inevitable global chains such as H&M, Zara and Forever 21 which are a welcome sight if you have a teenage daughter who hasn't yet grasped that she's an international traveller rather than a tourist. But Third Street also has pavement cafes, at least two cinemas and a Barnes & Noble bookstore. Then there's the street performers  including, and who can argue that this is entertainment, – skate boarding dogs. Waking early because you are on a different time zone means you may catch Third Street being washed with disinfectant. So it may be sanitised, literally, and it may be touristy but it's a good introduction to the city of angels for the non-Angelenos.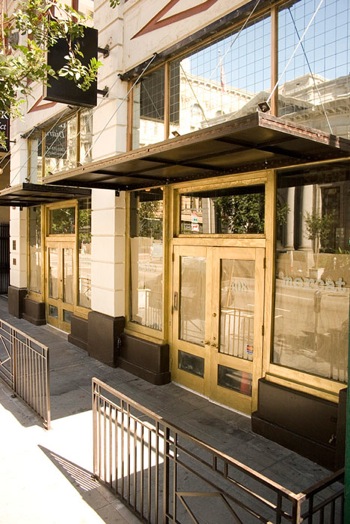 After Santa Monica, you may be ready for a less chi chi side of the city and downtown is certainly that. It still feels very urban but a visit to Baco Mercat reveals the regeneration that has taken place over the last few years. The restaurant opened the second week of November 2011 and Chef Josef Centeno told us 'Five years ago you couldn't have walked down South Main Street'.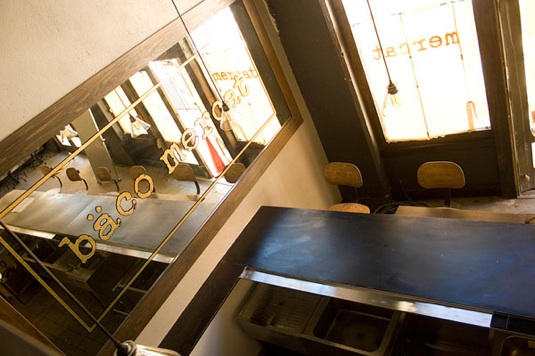 According to Josef cheaper rents mean cheaper menus. Mercat has a cool industrial design and a friendly informal atmosphere. Josef's signature dish is a Baco, a type of sandwich which when rolled flat becomes a 'coco'. Inspired by a Spanish version of a pizza, it's a very skinny flatbread which feels like carbs without the guilt. Americans are much more familiar with flat bread restaurants than the Brits.
On the same street, S. Main Street, is a brilliant Vietnamese restaurant called Blossom. Vietnamese food is as familiar to the Americans as Indian food is to us Brits so a minority of Angeleno reviews were able to say it didn't serve the best or cheapest 'Pho' in town although we tought the food was delicious and really fresh.
Pete's Bar and Cafe had a great atmosphere; it managed to be buzzy and relaxed at the same time and it's open till 2am. Situated at the corner of 4th and Main the interior has a mosaic tile floor from 1906 and dark wood panelling. There's a good selection of beers including Guinness and the cucumber cocktail is lovely. There's also a restaurant if you want to eat.
On Seventh, Bottega Louie is a beautiful high ceilinged, light restaurant with lots of elegant carerra marble which meant it looked amazing but the acoustics weren't great. It was still busy at 3pm on a Thursday so the locals seem to love it. The pasta dishes were excellent and there's a spectacular patisserie at the entrance to the building.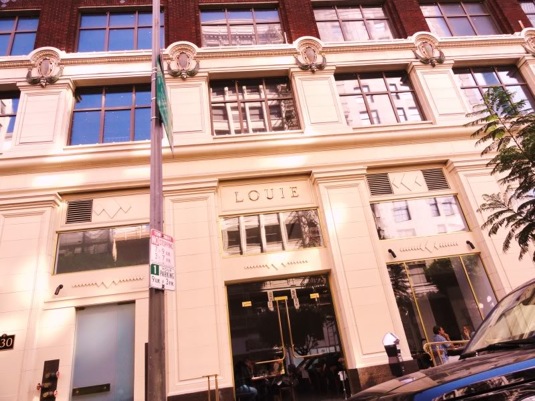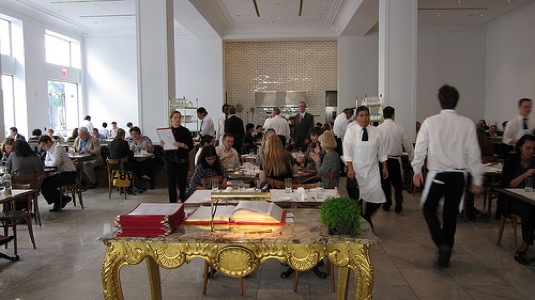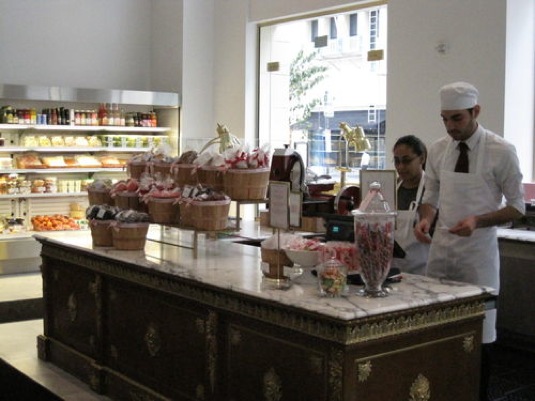 So, if you are still searching for that city in amongst the angels, don't fret the suburbs have loads of lovely food to eat while you are looking.