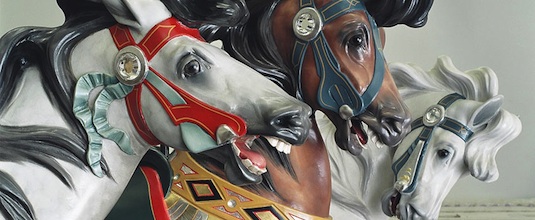 Brooklyn, long a New York day out for the economically challenged (a walk across the Bridge to gawp at the beautiful brownstones of Park Slope, a saunter round Prospect Park and as many coffee shops as there as stars in the heavens), has a new simple pleasure. Jane's Carousel is a completely restored, entirely original carousel built by the Philadelphia Toboggan Company in 1922. With its 48 exquisitely carved horses and two impressive chariots it will no doubt entrance both children and adults alike.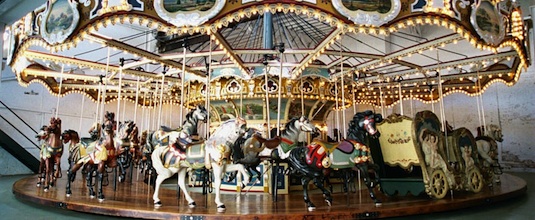 The carousel is located in Brooklyn Bridge Park on the East River and is housed in a lovely pavilion designed by Pritzker Prize winning architect Jean Novel. Both the carousel and the pavilion are gifts of the Walentas family to the people of New York City.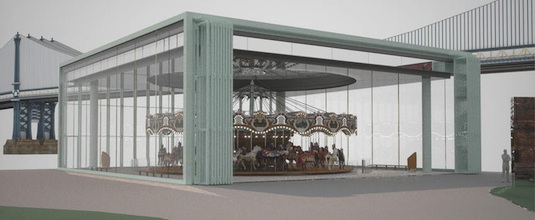 Jane Walentas, a Brooklyn based artist, and her husband David bought the carousel at auction in 1984, saving it from being broken up. Jane has painstakingly restored the carousel from scratch, scraping away decades of 'park paint' to reveal the original paintings and carvings. Missing embellishments such as faded jewels and beveled mirrors have all been returned to their best.
It costs just $2 to ride the carousel which can also be booked for parties, complete with carousel shaped birthday cake. To add to the adventure you can get there by hopping on the new East River Ferry from Manhattan and other riverfront neighbourhoods.
Jane's Carousel is one of those things you may never see, never mind ride on, but it's good to know it's there.