The family run Unicorn Inn, Kincardine has won a Taste Our Best award.
The brasserie received the award on 15 January for their commitment to including and promoting Scottish food and drink on their menu.
Brian Jones and his wife Michelle include dishes such as a haggis and tattie scone tower, Scottish smoked salmon with pickled beetroot and Scottish strawberry pavlova with fruit coulis on their menu.
Michelle and Brian bought the business with Michelle's parents in 2007. Michelle's mother, Roseann Cant, along with Lesley Mitch, are the cheerful and charming front of house staff. Chef Craig Manson works in the kitchen with Brian and Michelle, a former pastry chef at Garvock House Hotel, Dunfermline.
The building has a new turret-style extension but the original building has plenty of history. Dating way back to 1639, the converted coaching inn was the birthplace of Sir James Dewar – the celebrated physicist and chemist who's best known for inventing the vacuum flask.
Daily Record's restaurant reviewer, Tam Cowan wrote that the menu was great value compared to city centre places. The cosy bar, complete with fire and sofas, was also a hit with the well-known pundit for pre-dinner drinks. Prices start at soup and panini for £4.95 at lunchtime during the week.
The prices for set menus are Lunch, £15.95 two course. £18.95 three course.
There's a Monday night deal which is two courses for £10. Wednesday night, two course £15.95 (and a 125ml glass of wine, or tea or coffee of your choice), Three course £18.95 (with a 125ml glass of wine,or tea or coffee of your choice).
High Tea on a Sunday from 1500-1700 £12.95.
(Pictured above, Tim O'Shaughnessy, Visit Scotland with Michelle Jones, The Unicorn Inn and Richard Lochhead, Minister for Rural Affairs and Food and below, Head Chef Brian Jone and Michelle Jones)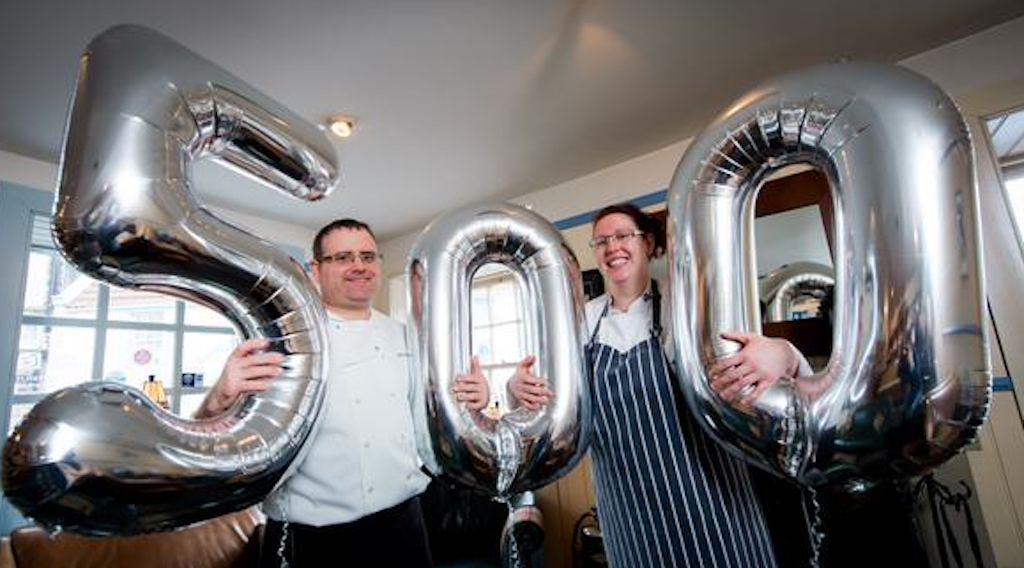 Taste Our Best is a joint initiative between VisitScotland and the Scottish Government, with support from Scotland Food and Drink.