Would it be over sharing to tell you that sometimes, if I can't sleep, I design tiny houses in my head? I find it soothing and satisfying to organise small spaces to accommodate every need. As a child, the tree trunk home of the runaway boy in Jean Craighead George's My Side of the Mountain and the dainty round turret room in Elizabeth Goudge's The Little White Horse were my favourite characters in these classic tales.
Now that boom times are well and truly over there's a new enthusiasm for small housing, evidenced by the multitude of blogs, magazines and books dedicated to the subject. Susan Susanka is the Martha Stewart of small: her bestseller The Not So Big House Book, has spawned a mini industry of follow up titles, speaking engagements, tv shows and magazines while Small Space Living, the popular Pittsburgh based blog, is a brilliant resource for small space dwellers, highlighting books, designs and products that can make compact living more comfortable and enriching.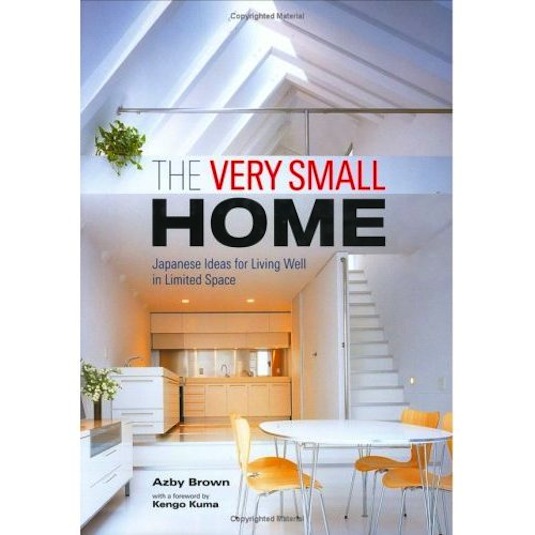 Small is currently big in Japan. Architect Kengo Kuma (designer of the new V&A in Dundee) extols the virtues of living simply in a small space and sees it as a reaction to environmental and political instability. Kuma recognises that this could be seen as a flight from reality to the sealed, private space but he welcomes the unassuming elegance which has replaced grand showmanship. For Kuma living small is a chance to focus on pleasing materials and the close relationship between people and their environment. In a stunningly illustrated and absorbing book, The Very Small Home – Japanese Ideas for Living in Limited Spaces, Azby Brown features a range of superbly designed compact living spaces from ultra modern to Japanese Rustic highlighting the use of natural light, atriums, snug but functional kitchens, unobtrusive partitions and free flowing circulation paths.
In America the bigger is better philosophy seems hard wired into the national psyche. In the 1950s the average American home was less than a 1000 square feet, by 2004 it had swollen to nearly 2500 square feet. Hastily built cookie cutter McMansions are commonplace and, in certain areas of desirable real estate, owners tear down their already massive homes to replace them with something even more gargantuan.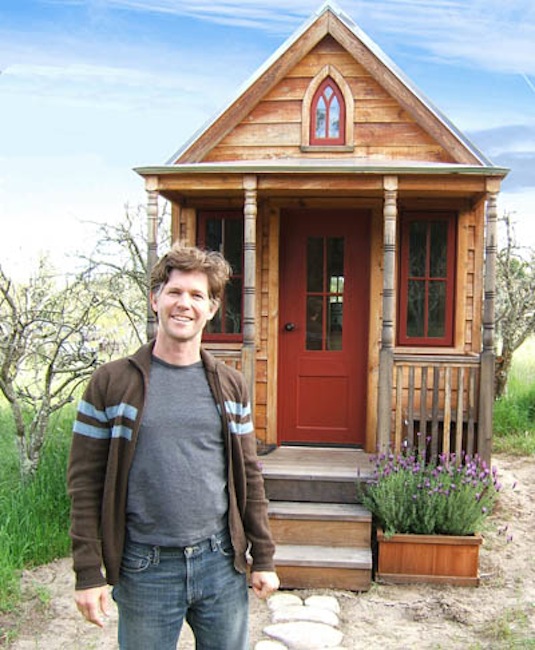 However the small living movement is on the rise in America. Its poster boy is California based Jay Shafer. Having grown up in a large house where he noted that much of the family's time was spent cleaning, maintaining and shopping for the home, Shafer decided to shed these burdens as well as those of mortgage, rent and utility bills. He built himself a little house, less than 90 square feet, designed around his needs. He went on to build more tiny houses, making the most of interiors by minimising hallways and stairwells and being crafty about storage and a highly successful company, Tumbleweed Houses, was born. The company now produces a range of ingeniously designed styles, some traditional looking, some boxy and modern, many complete with fireplaces and baths. They can be bought ready made for around $50k or you can buy plans for a few hundred dollars if you prefer to build the house yourself. Planning permissions are minimal.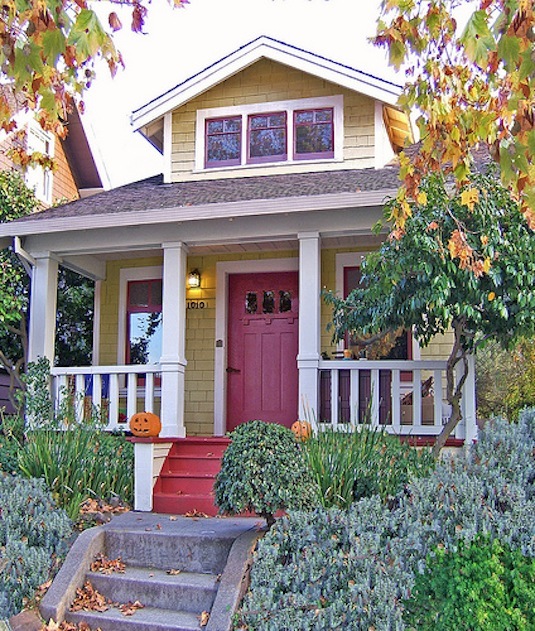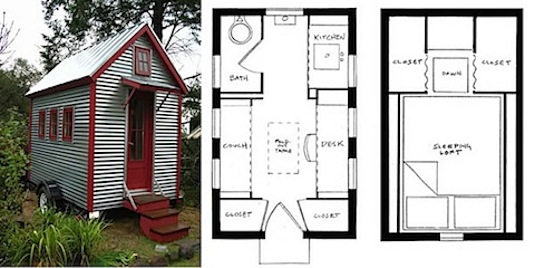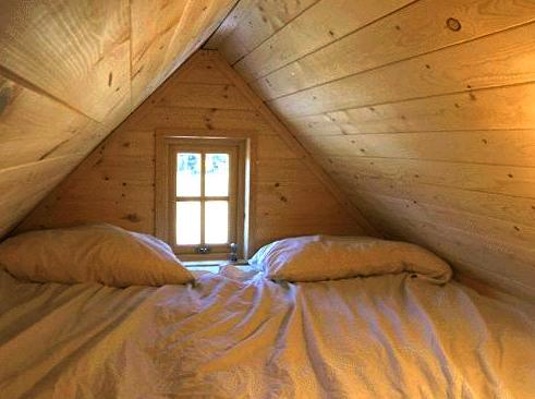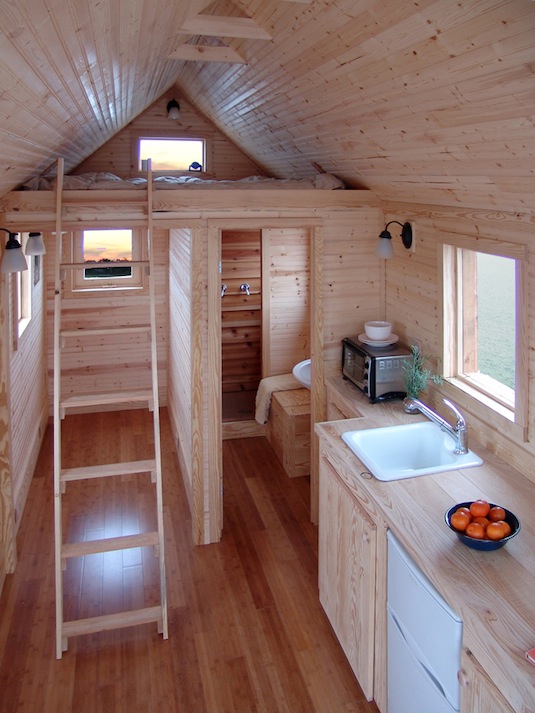 The rebirth of the prefab as a sustainable contemporary building technique, is encouraging small house living with many companies vying to come up with the tiniest possible prefab designs. The Micro Compact Home – a collaboration between the Technical University in Munich and the Tokyo Institute of Technology – is designed to be used alone, stacked or gathered in a group while the Wee House by AlchemyArchitects can be placed anywhere, even on a roof top.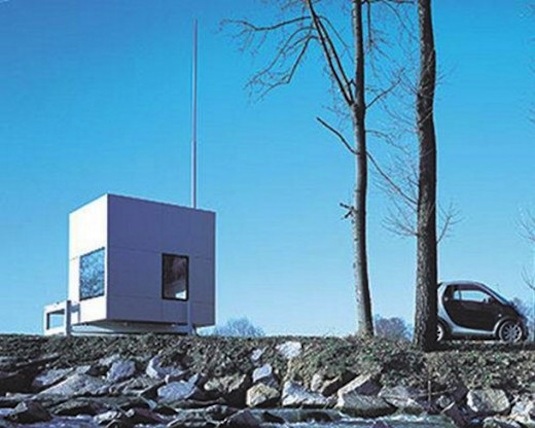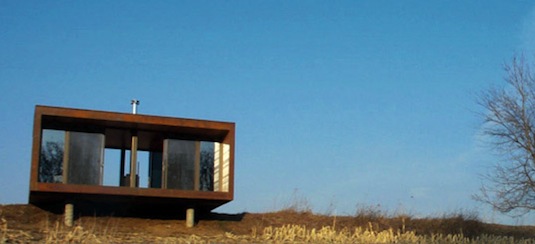 Modern technology also facilitates small house living: big boxy tvs, hi fi equipment that looked as if it could fly you to the moon, bulky computers that required their own piece of furniture if not their own room, telephone tables, cd and book collections, magazine racks – all things of the past.
While mortgages were plentiful we got into the habit of moving ever upwards on the property ladder but that was a bum steer wasn't it: compact, well made and paid for can be better than impressively large, falling apart and financially ruinous. It also treads lighter on the planet. What's more, size constraints can actually unlock creativity and allow focus on what is essential. Of course living small can't work for everyone's circumstances. There will always be those who define themselves by their square footage while others realise it's not how big but what you do with it that matters in the end.