David Breese, a Lincolnshire furniture maker, started out restoring and selling pre-war original Lloyd Loom furniture.  When it became difficult to source sufficient good quality originals to meet growing demand  he decided to manufacture himself. In 1985 he began researching the techniques and  trained his workers until he had a skilled staff expert in the craft that had originally been learnt in 1920 when the process was invented.
There was a strong demand for the new chairs and Lloyd Loom of Spalding were soon sending the majority of their output to Germany, Holland and Belgium. The company expanded and in 1995 won the Queen's Export Award for Industry.
Lloyd Loom weave is made from twisted paper and wire and the frames are traditionally made from steam-bent beech wood.  Cheaper versions which are not as strong are made in the Far East from rattan wood.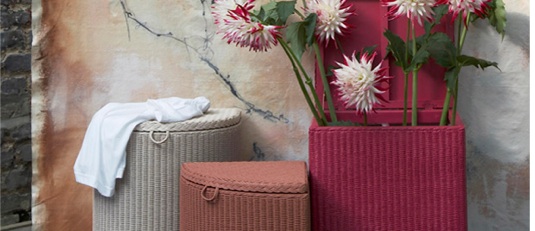 The fabric was invented by Marshall Burns Lloyd from Minnesota and he sold the European patent to a London salvage merchant, William Lusty. Demand was slow to take off for the furniture although baby carriages were very popular until a breakthrough came when the London North Eastern Railways began using the furniture in its hotels.  By the 1920s and 30s it became very popular after its introduction to Royal yachts, ocean liners and the royal boxes at Henley, Wimbledon and Twickenham and then in tearooms and hotels around the country.
And then in 1940, disaster struck. The factory in east London was hit in a Luftwaffe raid and destroyed.  It was the end of large scale manufacture in the UK until it was resurrected in Spalding, Lincolnshire 40 years later. Its's hard to believe but Spalding has now been manufacturing longer than the original Lusty factory.