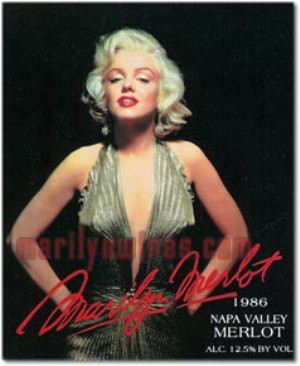 Each year on 1 June sees the release of the new vintage of the fabulously titled Marilyn Merlot from California's Napa Valley. For those of you who have seen the film Sideways where the main character has a merlot related melt-down, you might be aware that it has become quite trendy to be disparaging of merlot dominant wines. So with that in mind I thought it would be fun to recommend a merlot from California that is really rather good.
There are many exceptional merlot dominant wines available from famous vineyard areas around the world. On the 'right bank' of Bordeaux merlot is the most important grape variety of the blend that makes up the majority of the top wines from St Emilion and Pomerol. Chateau Petrus, the most expensive bottle of wine in the world, is 100% merlot.
The Napa Valley, which lies to the north east of San Francisco and is arguably the most important and well-known fine wine area in the US, is often criticised for only producing blockbuster 'show' wines that lack elegance and subtlety and over deliver on power and extract and merlot has been seen as one of the major culprits for a long time. Marilyn Merlot is produced from vineyards in the Napa Valley and was originally started as a bit of fun amongst a group of friends but became highly sought-after by those who had heard of it in the area so the group of friends decided to make it into a commercial bottling.
With a different image of Marilyn on the label with each vintage the wine has since gone on to become highly collectible, mainly by fans of Marilyn who tend not to drink them, but also by wine lovers who enjoy very good quality merlot. The exact proportion of merlot varies from vintage to vintage, the 2008, the current release, is a gorgeous fruit-packed and richly flavoured wine with great balance and structure, in part provided by 20% cabernet sauvignon in the blend. Marilyn Merlot is not cheap at £24 a bottle but is certainly well worth the money when compared to a similar styled and priced merlot dominant Bordeaux.
The 2011 release is the 25th vintage of Marilyn Merlot so will be even more desirable and will be released on the 1 June, Marilyn's birthday, check out www.marilynwines.com/marilynmerlot to see the imagery for all of the last 24 vintages.
Cheers,
Shane