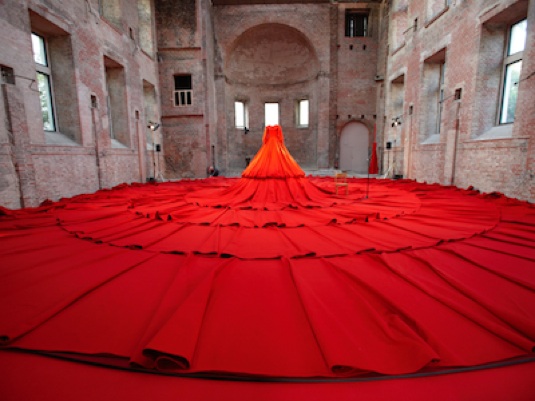 In the words of Mae West, this long dress 'could cover a multitude of shins' and accommodate up to 238 people to be precise.
REDDRESS is an interactive installation and performance space in the form of a colossal, red dress.
Designed by Aamu Song, the project has been unveiled by The Finnish Institute in London as its next project for London Design Festival.
From 22 to 25 September 2011, REDDRESS will be exhibited for the first time in London at York Hall, Bethnal Green. Realised in over 550 metres of Kvadrat's classic Divina wool fabric, this extraordinary red dress is worn by a performer who will climb a concealed staircase to immerse herself into the billowing material.
Reaching an impressive 20 metres in diametre, the dress can accommodate up to 238 people within the gigantic pockets of its folds allowing the audience members to fully engross themselves into the space and moment.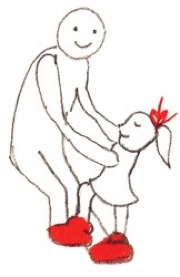 Put on Your Red Shoes and Dance (left) is on Saturday 24 September. Mums, Dads and twinkle-toed toddlers are invited to drop in to an afternoon dance party involving a very special pair of dance shoes. The red felt shoes 'Tanssitossut' designed by Aamu Song, enable parents and children aged 2-5 to dance together in pairs.
The dress code for the evening event on Friday 23 is red and all attendees will be invited to wear red.
Red dresses and art sounds like a spectacular combination although see how long it is before someone asks: 'Does My Bum Look Big in this?'