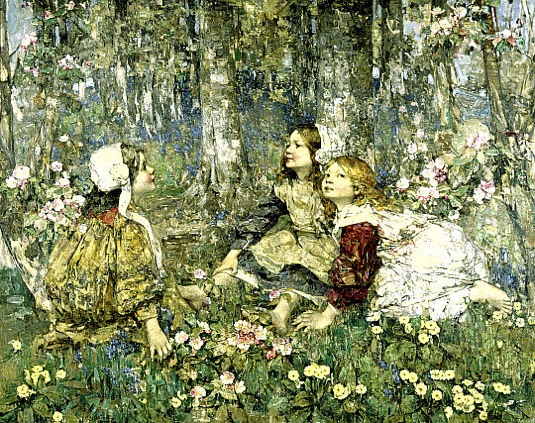 The Music of the Woods by Edward Atkinson Hornel, 1906.
Kirkcudbright Jazz Festival, starts today, 16th June and runs till the 19th June with a programme that focuses on traditional jazz. Even if traditional jazz is not your thing the pretty town is worth a visit if you happen to be in the area. Established as an artists colony from 1850 to 1950 it is said the quality of the light was a draw but the attraction of being with other artists was also a large part of the appeal. One of the most famous locals, E A Hornel, who was closely associated with the Glasgow Boys, settled back in his home town after his travels to Japan and Burma and concentrated on commercially successful paintings of children in the Galloway countryside. Artists such as Charles Oppenheimer, W S MacGeorge, Bill Robson, David Gauld, Sir James Guthrie, Robert Sivell, Chris J Fergusson and William Mouncey also all had a strong connection with the town.
Evening, Kirkcudbright by Samuel John Peploe.