le truc, proudly shows off their new patio for outdoor dining. The choice of places to eat in San Francisco is outstanding and there will be reviews of a couple of stationary restaurants at the end of the week but le truc looked fun particularly if you are able to hire it for private parties. Here's how the owners describe what they are trying to do; "There is no law requiring that catering trucks serve unwholesome, careless cuisine. The 'roach coach' has traditionally served food that provides instant gratification without much thought given to nutrition or health. Enter le truc, which creates a new standard for street food, served out of the side of (or, if you're smart enough to have reserved one of the twelve seats, in) a full-sized school bus. le truc is one of the first gourmet 'kitchens on wheels', pairing slow food with craft beer from artisanal brewers."
Chef Hugh Schick (in basball cap), who co-owns le truc with Blake Tally (right), says le truc represents the intersection of two of the hottest concepts in the food world: the gastropub and the food truck! Customer response has been enthusiastic: "`Hercules couldn't have pried the plate out of my hands" , said Andre Jones.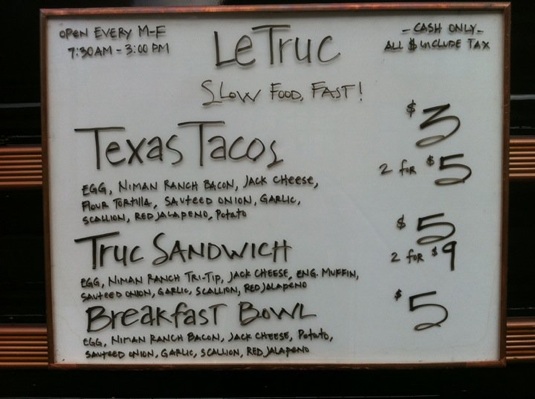 Le truc travels round but is usually found at 470 Brannan Street, San Francisco, ca 94107. As already mentioned it is also available for private parties.