Here's a treat – this is a featured blog by Sarah Patrick of Postcard from Fife. A Fifer born-and-bred, Sarah blogs and tweets as Postcard from Fife to highlight her interesting finds – particularly food, music, festivals and vintage – so that others can discover what makes the area so special. Sarah, who tells us she is excited to be back living in the Kingdom after over 10 years in Edinburgh and London, recently got married in a super stylish ceremony: she shares below her secrets of the big day…
Wow, what an amazing few months.I married fellow Fifer Mr P at the end of December and we spent January travelling through Vietnam on our honeymoon! I met so many creative, talented people during the wedding planning and we had such an amazing wedding day in our beautiful Kingdom that it's only fair I share some of our experiences.
As soon as Mr P proposed to me (ok, maybe even before!) I knew where we'd get married – the gorgeous Balbirnie House, a Grade A listed Georgian house just a few minutes walk through the park from where we live in Markinch.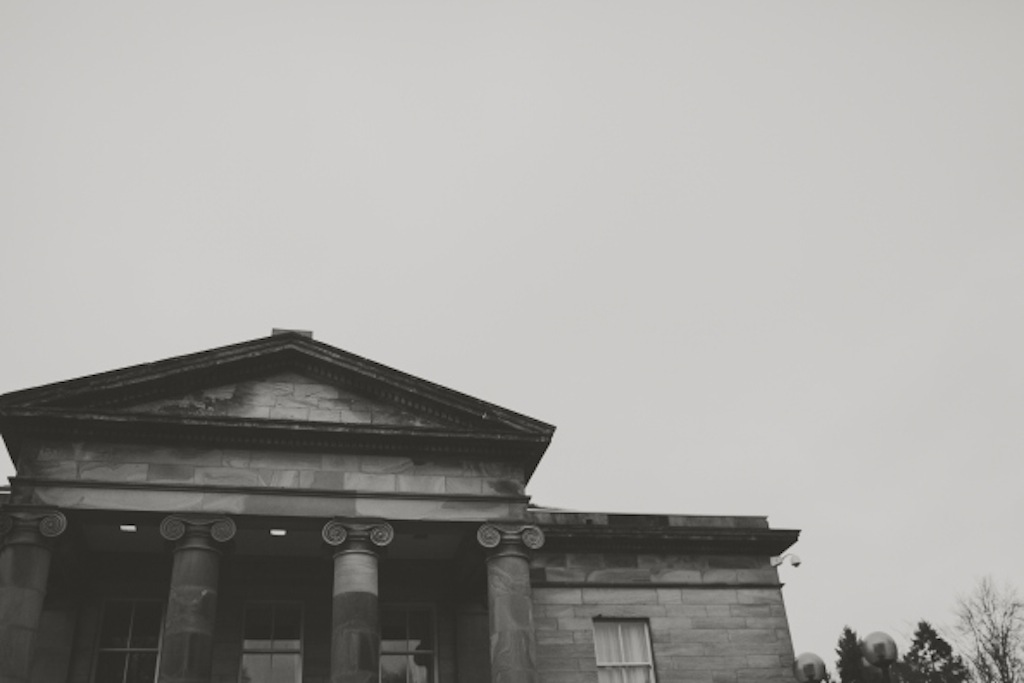 We love Balbirnie and feel really connected to it – my great gran used to work in the house (back when it was someone's house!) and since moving back to Scotland we've had a tradition of enjoying a romantic dinner and cocktails in the house every Christmas Eve. It really is a stunning venue and we LOVED having our special day there – the beautiful arched ceiling of the Long Gallery, the amazing staff, yummy food and of course the big sparkly dance floor to boogie the night away on!
Mr P and I both love music and all things vintage. We wanted our wedding day to reflect this, so I learnt how to use Adobe InDesign and Illustrator to create all our own wedding stationery, including our record shaped wedding invites, music festival inspired table names and lots of other bits and pieces.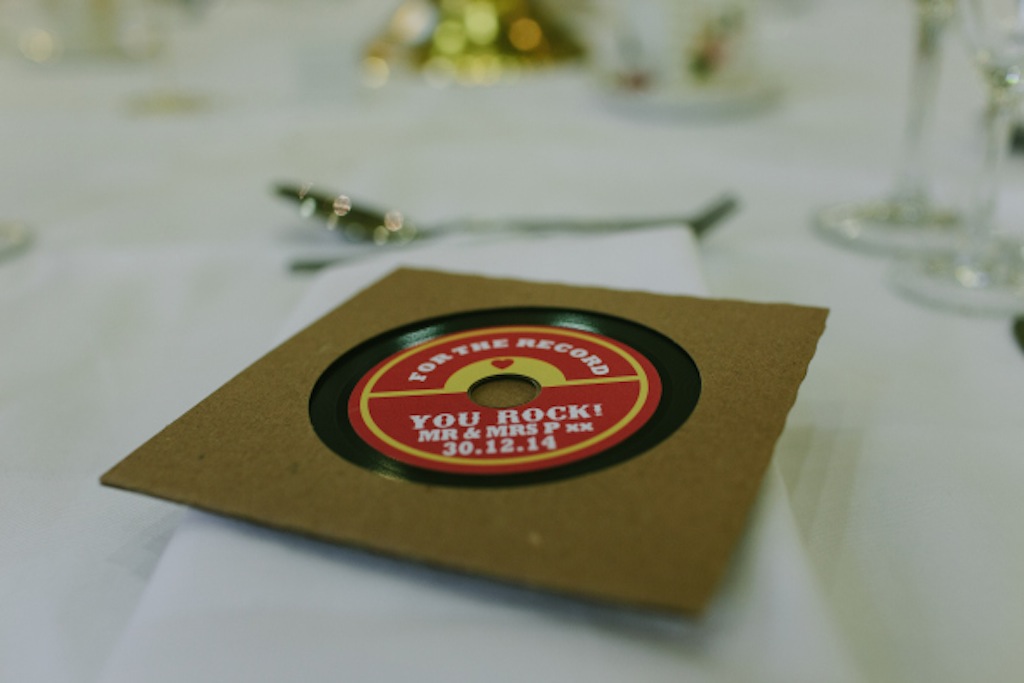 On the day, Dunfermline-based Sophie Alexis Makeup transformed us gals with 50s style makeup – she works wonders! – and Mairi from Alison Stewart Hairdressing in Kirkcaldy glammed up our hair. Both gals are very talented as our makeup and hair lasted all day and right through a fun night of dancing….
Of course, I had to walk down the aisle to a King Creosote song and chose the beautiful "Favourite Girl" he wrote for his daughter – I think KC has some new fans as a result, including my dad!
Neither myself or Mr P are religious, so we opted for a really personal ceremony – Humanist celebrant Neil Anderson from Newburgh told our story beautifully (he had us all smiling and laughing) and a couple of our nearest and dearest did readings, including an extract from the 1960s children's book "I Like You".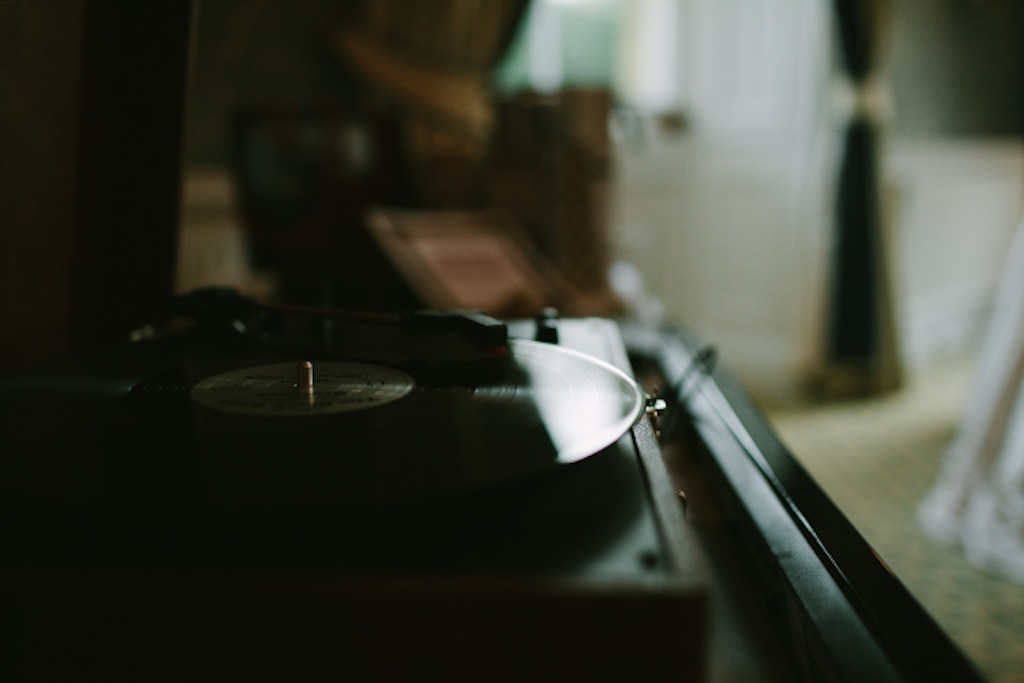 To get the celebrations started, we set out our record player and some of our favourite vinyl for our guests during the drinks reception. Cocktails were served in the gorgeous vintage champagne glasses we hired from Glenrothes-based vintage china hire company Green Cockatoo – Fiona and John are such a great couple and they're so passionate about their beautiful collection that we ended up hiring the teacups for our table decorations from them too.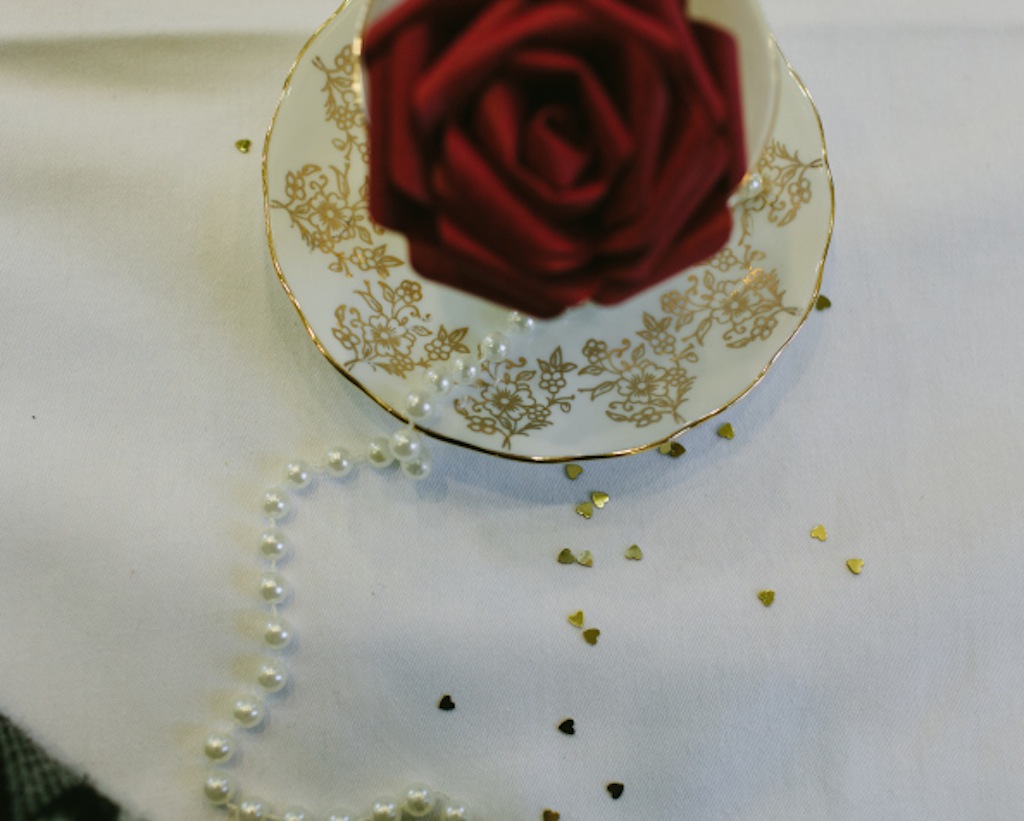 Music was an important part of our day, so in addition to our record player we had Steven Dewar from Kirkcaldy-based Scotia Pipers welcoming guests on the bagpipes and The Honey Moons 6-piece band from Edinburgh playing music from the 1950s to present day with some ceilidh songs. The band were a huge hit as the dance floor was full all night!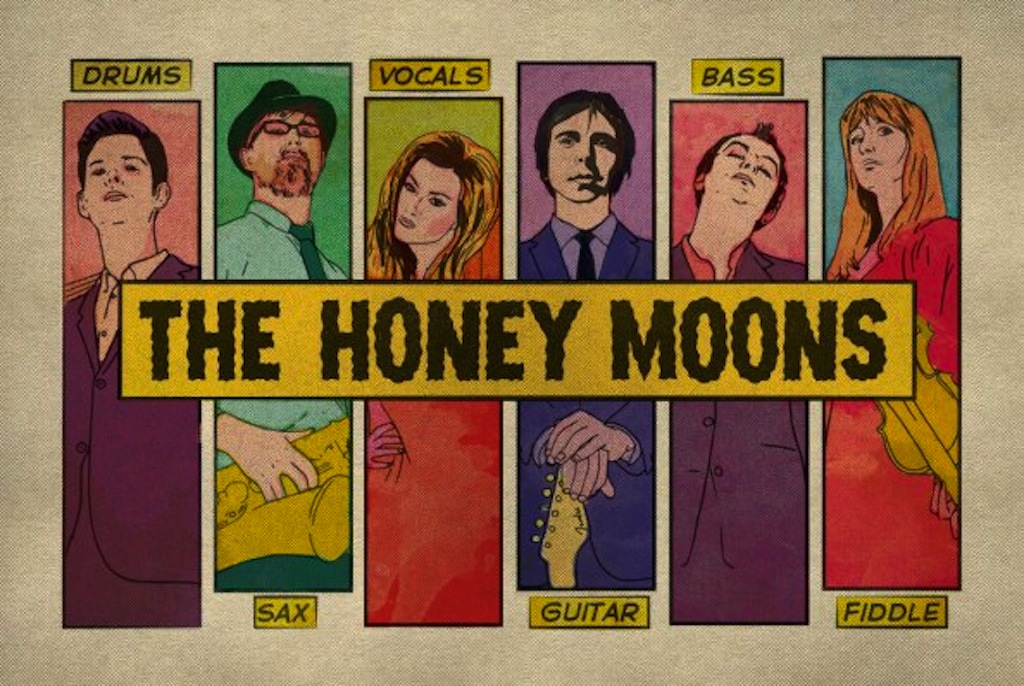 There were so many other amazing suppliers I discovered that cover the Fife area, including Glasgow-based Bygone Photo Booth Company – Stephanie and Joseph are the most adorable couple with the best photo booth EVER! Our guests were even queuing to use the vintage style photo booth and props, we had so much fun!
And last, but by no means least, all our amazing photos are thanks to Sarah and Darren of alternative wedding photographers SD photography (based in Dundee).
Sarah (Mrs P!) x
You can check out more from Postcard from Fife here.