There they sat, three people of about the same age who grew up within streets of each other in the same small town, looking for all the world like prizewinners on speech day: the cleverest boy, the girl who's best at writing and the bad boy who happens to be brilliant at drawing. Former Prime Minister Gordon Brown, best selling crime writer Val McDermid and Britain's most successful artist Jack Vettriano were back in their hometown of Kirkcaldy on Friday to celebrate the opening, after a £2.5 million refurbishment of the now combined Kirkcaldy museum, art gallery and library. Their pride and personal response was clear to see.
Gordon Brown addressed the well attended launch, apparently very much at ease and relaxed. In what was a theme for all three speakers he cited Kirkcaldy Library as having played a pivotal role in his own development as a thinker and seer of wide horizons. He even claimed that his nascent understanding of economics was founded on having to fork out for the library fines he incurred as a boy. Mr Brown claimed that Kirkcaldy Galleries was the 'best cultural institution in the country outside the cities' and described its reopening as the key landmark moment in the town's history since Raith Rovers won the cup in 1994.
He responded to the question of why there should be investment in physical cultural spaces in a post internet age with a resounding affirmation of the value of libraries and museums as community focal points, meeting places and spaces for contemplation. He finished by noting that the refurbishment of the Galleries, along with the building of a new secondary school in the town, the setting up of the Adam Smith Global Foundation and the development of Kirkcaldy High Street are signs of Kirkcaldy swimming against the tide to great effect.
The idea of libraries as a community's lifeblood was picked up by writer Val McDermid in her stirring and beautifully delivered speech. Having been introduced as someone of whom Kirkcaldy is proud, she said the pride was in fact hers to see her hometown investing in culture at a time other places – and she mentioned with disapproval her adopted home of Northumberland – are cutting these facilities to useless bone. She told of how, in common with many Scots, she grew up in a family with little money but a huge respect for books and learning. She remembered that when she visited the library as a child she was excited to be able to take out four books at a time but that – in a rule she described as Presbyterian – two of these had to be non fiction lest too much enjoyment be derived.
'I became a writer,' she said, 'because I was a reader', inspired, somewhat unexpectedly by the Chalet Girls of Enid Blyton's creation. McDermid explained that she went on to study at Oxford University because that was where the Chalet Girls who didn't go The Sorbonne or The Kensington School of Needlework went.
For McDermid, the developing of the Galleries was the town 'spreading it wings' and creating a place of excitement and discovery for people to become writers, explorers and scientists.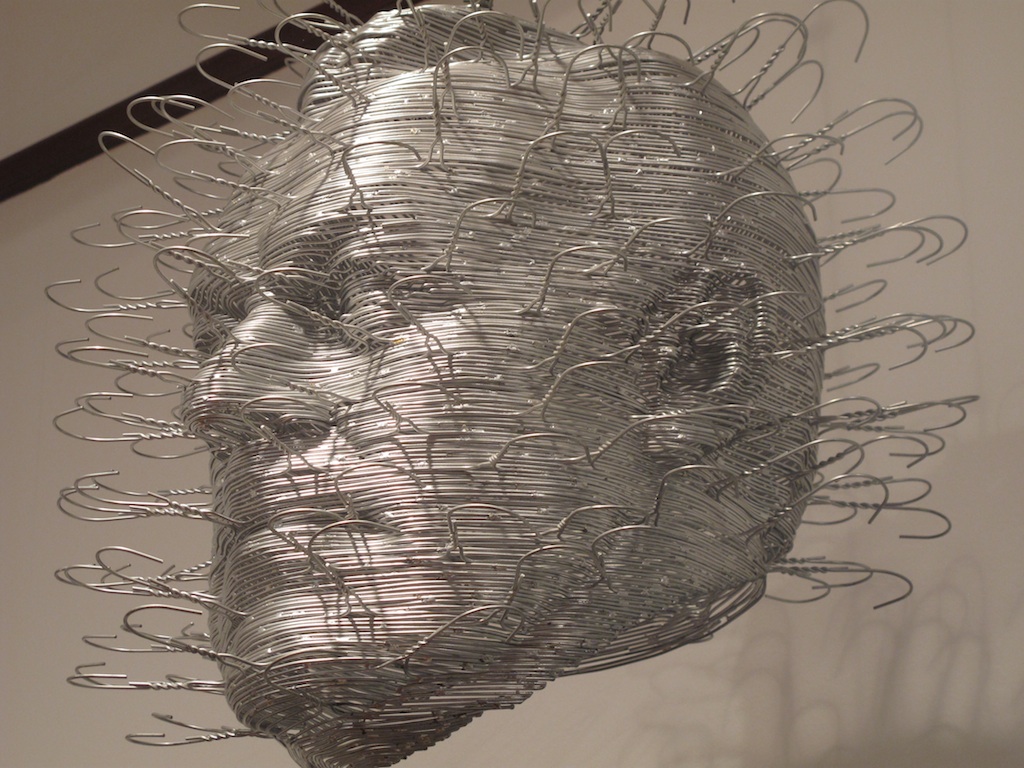 Jack Vettriano took to the platform to echo the thoughts of his peers. 'I owe my career to this exceptional collection of art,' he said. The Kirkcaldy art collection famously includes a fantastic selection of work by the Colourists including Peploe (above ), Lowry, the Glasgow Boys and the only Vettrianos in a public gallery. In its time Van Goghs and Monets have hung on its walls and it has recently acquired a painting by Alison Watt and a wire hanger sculpture by David Mach (both pictured below). Looking across to his fellow speakers, Vettriano mused, 'I never knew Gordon and Val then – but what a team we could have made!'
He recalled that his first artistic success came when he won the Shell Fife Amateur Art Competition and that by the early 1990s he was making a living entirely from art. He of course went on to become one of the best selling artists in the world: dressed simply in rumpled jacket and jeans, only his very expensive shoes gave him away. Vettriano ended by saying that John Nairn, the linoleum manufacturer who founded the gallery in honour of his son Ian Coupar Nairn, fallen in the Great War, 'must surely have been proud today'.
Pride was very much the keynote at Friday's launch event which was followed by a celebratory weekend of free events and guided tours. There was a sense that Kirkcaldy was engaged in an act of faith by investing in its cultural and intellectual heart. Perhaps this is not surprising in an area that has produced the father of economics Adam Smith, inventor or time zones Sir Sandford Fleming,  founder of the Dick Veterinary School William Dick, architect Robert Adam, maths genius Mary Somerville and child prodigy poet Marjorie Fleming. On Friday, the boy who became the country's leader, the girl who became one of its most successful writers and the boy who outsold all of its artists were home to show that to be the brightest in Kirkcaldy is to be very bright indeed.
Kirkcaldy Museum and Art Gallery was built in 1925 as part of the town's war memorial and is now run by the Fife Culutral Trust. The £2.5 million refurbishment has been carried out by Fife Council on budget and on time. The new facilities include a lovely new cafe with restored herringbone floor and a manned Visit Scotland information point. The improvements mean Kirkcaldy will be able to stage world class exhibitions in future and that its permanent collection can be kept safe and secure for years to come.
Pictured below is Spring Moonlight, painted by John Henry Lorimer in 1896, which was chosen by the people of Kirkcaldy as their favourite painting in the Galleries' art collection.