To mark the festival of red polyester lace and disappointment that is Valentine's Day, here is 'Love Poem' by American poet John Frederick Nims – not only beautiful but a useful hint about the sort of things women actually want to hear…
My clumsiest dear, whose hands shipwreck vases,
At whose quick touch all glasses chip and ring,
Whose palms are bulls in china, burs in linen,
And have no cunning way with any soft thing
Except all ill-at-ease fidgeting people:
The refugee uncertain at the door
You make at home: deftly you steady
The drunk clambering on his undulant floor.
Unpredictable dear, the taxi drivers' terror,
Shrinking from far headlights pale as a dime
Yet leaping before apoplectic streetcars –
Misfit in any space. And never on time.
A wrench in clocks and the solar system. Only
With words and people and love you move at ease;
In traffic of wit expertly manoeuvre
And keep us, all devotion, at your knees.
Forgetting your coffee spreading on our flannel,
Your lipstick grinning on our coat,
So gaily in love's unbreakable heaven
Our souls on glory of spilt bourbon float.
Be with me, darling, early and late. Smash glasses –
I will study wry music for your sake.
For should your hands drop white and empty
All the toys of the world would break.
And if poems won't cut it with your loved one, how about this great print from Stay Gold Media? It costs $9.99 and is available in a range of colours.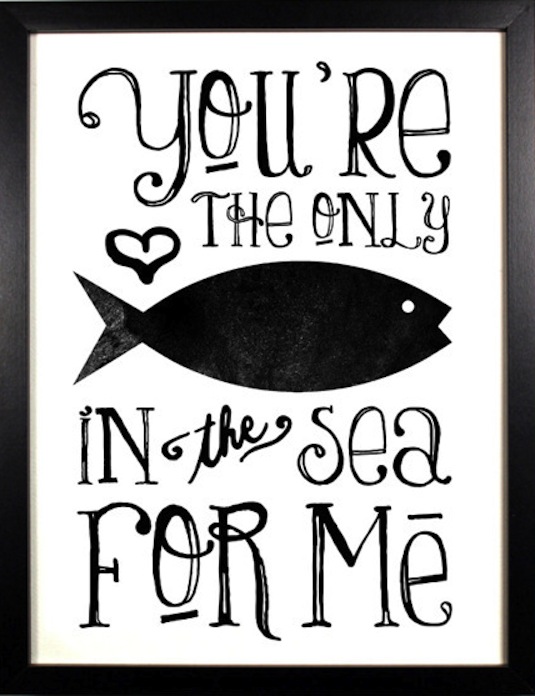 Happy Valentines Day!