If the literary internet resembles the school playground – and it does – McSweeney's is the class wit who's got all the answers and is ready for cocktails while you're still learning to tie your shoelaces. Launched by novelist Dave Eggers in 1998 as a literary journal dedicated to rejected work, McSweeneys is now a sort of alternative publishing empire with a loyal subscriber base and a strong independent bookstore following. It publishes work by heavyweights such as Michael Chabon and Joyce Carol Oates as well as that of unsung or unpublished writers. It also seems to grow – octopus  like – more arms daily. The internet arm is McSweeney's Internet Tendency which has in the past won a national webby Award for best writing.  It delivers daily articles, open letters and lists by guest writers, known and unknown, who can do that uniquely American thing of being wordy but simple and intense but funny. Titles such as 'My friends, I humbly implore to get this conga line started' and 'It's decorative gourd season, motherfuckers' and 'You look at me like you've never seen a neo-hipster before' give a flavour of the style favoured as does this from Andrew Palmer's demented but blade sharp piece, 'Jenna take me back I'm newly muscular' : 
"I could pick you up and carry you now, Jenna, I think. I think I could probably at least pick you up for a moment, assuming you're somewhere near the lower end of your weight range. I bet I could pick you up and carry you twenty or thirty yards at least. I might even be able to lift you over my head and twirl you. Would you like that, Jenna? Would you like your meaty man to pick you up and twirl you over his head like a helicopter then toss you as far as he can? It's okay, Jenna, I'll aim for something soft."
.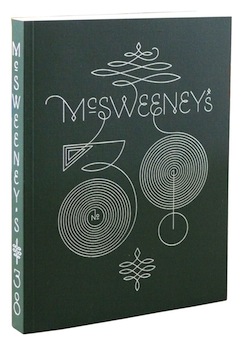 You can let the world know you're a member of this alternative American literati by buying a McSweeneys branded t shirt (or indeed a year's supply of t shirts for $99) in the The Store or you can sign up for one of the various quarterly and irregular periodicals. McSweeney's Quarterly Concern is a print periodical which arrives in a range of formats, perhaps in a box, in Icelandic or looking like a pile of random bits of mail. Wholphin is a DVD featuring short films, animation and documentaries by people like Spike Jonze and Miranda July while The Believer is a collection of deliberately long winded, untimely reviews. If you don't know where to start, try the The Small Chair app which, for about $6 for a half year, provides a selection of content from across the McSweeney's output.