Basil, a new Indian restaurant, which recently opened in Dunfermline's Carnegie Drive is offering Avocado Sweet readers a meal for 4, up to the value of £100, as a competition prize. No restaurant opening would be complete without Sammy the Tammy, pictured above, with owner, Ram and DAFC captain, Callum Morris. Basil, is owned and run by Parsuram Sigdel, or Ram, who readers may remember from Ashiqs, an Indian restaurant in Bridge Street that had a loyal following of locals.
The site which used to be home to Italian eatery, Luigis, is now fitted with red velvet booth seating, white walls and white linen table cloths. Ram has recruited chef, Bishnu Neupane to join the team.  Bishnu had previously worked at Benares, the Michelin-starred Indian restaurant operated in London by TV chef Atul Kochhar, and Chutney Mary's, another famous London based Indian restaurant.
Basil is usually associated with Italian cuisine but the herb is also used in Indian cookery. Chef, Bishnu will be introducing new dishes using the herb alongside the old favourites. Items on the menu include lamb shanks, cooked with basil, herbs and spices, chutney lamb chops with mint, basil and special spices, and a lamb seekh kebab with capsicum onions, basil and spices. Basil is also used in India to ward off colds, so is one of the most significant herbs widely used, alongside the better known coriander.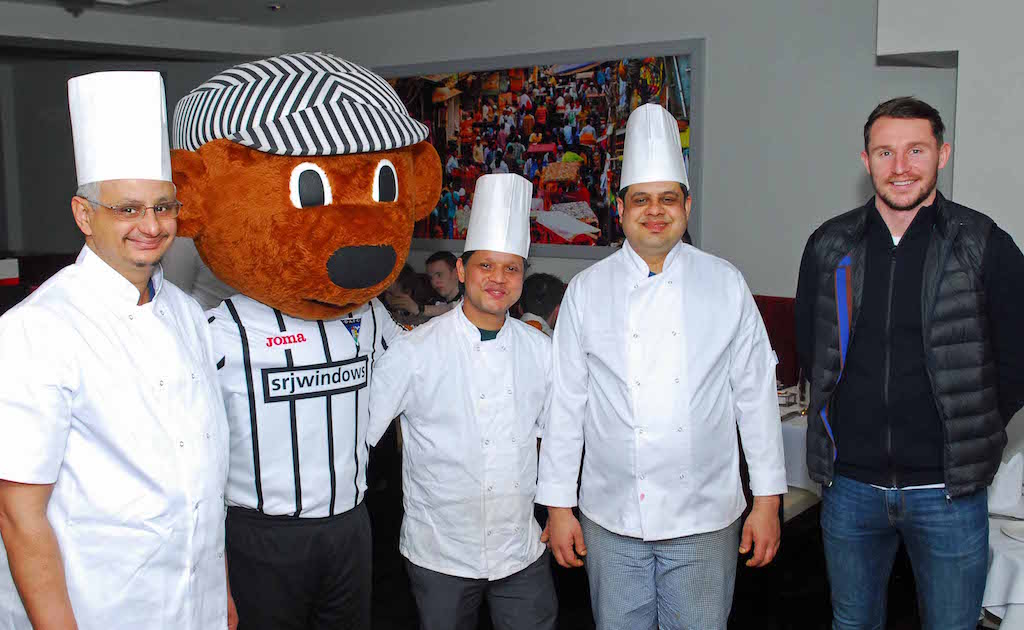 Ram explained that the restaurant opened its doors in December and, due to the festive rush, did not have much time to properly launch itself.
"We now have our new website up and running, and want the town to know we are here," he said. "We thought that we would get some local community representatives, such as Callum from The Pars, accompanied by Sammy the Tammy of course, to come along an officially cut a ribbon for us."
To have a chance of winning please share this post on Facebook. Remember to make sure you are following Avocado Sweet on FB so that we can direct message the winners whose names will be drawn out of a hat by midnight on Monday 19 February. .
Photo captions:
Top: Tara Montgomery (12) of Carnegie Swimming Club, Ben Montgomery (13) of Carnegie Swimming Club,(behind), Parsuram Sigdel (owner of Basil), Sammy the Tammy and DAFC Captain Callum Morris are pictured cutting the ribbon for the official opening of Basil last night.
Chef Subhash Sharma, Sammy the Tammy, Chef Gyan Bahadur Khatri, Head Chef Bishnu Neupane and Callum Morris, DAFC Captain