After forty years of being represented by men; favourably by good friend David Hockney in Mrs and Mrs Clark and Percy (above), and later, less flatteringly in ex-husband, Ossie Clark's diaries, designer Celia Birtwell is publishing her own story. She chose style writer, Dominic Lutyens to help write about her life and work.
In a refreshing contrast to the current trend in autobiographies she has avoided sensational revelations and has resisted the right to reply to Clark's own book, published posthumously after he was murdered by his ex-lover in 1996, and which shocked many at the time in its bitchiness.  Instead, Birtwell, who met the fashion designer in 1959 at the Cona coffee bar in Manchester, credits him with revolutionising fashion shows by being the first designer to bring fashion and music together and commends his brilliance at designing clothes to flatter women. She must have had loads of potential to dish the dirt; her 60s and 70s clients included Marianne Faithfull, Pattie Boyd, Bianca Jagger as well as Brian Jones and Keith Richards.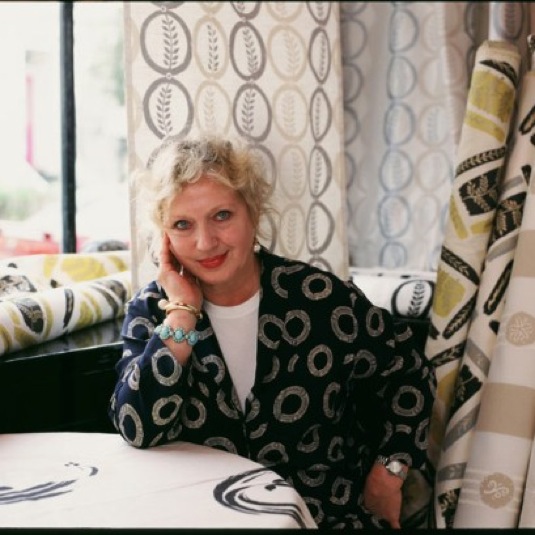 Defying the current 'kiss and tell' trend in autobiographies is not the only way in which Birtwell ploughs her own furrow. Lutyens describes her as 'quite old school in the sense that she is not desperate to court the media; she's modest and low-key.  She's always done her own thing and others have promoted her more than herself, though she always worked extremely hard and is very talented and disciplined.' Her background might explain such a demeanour. Kate Finnigan, interviewing her for The Telegraph describes Birtwell, who grew up near Manchester, as having 'all the good sense, lack of pretension and appreciation of the absurd that we expect of our northerners'.
It's reassuring then that her modesty hasn't held her back. In 2006 she produced four sell out collections for Top Shop and currently has a collection for John Lewis.
So how do you folllow up working with two major high street retailers nearly 50 years after the start of your career? Ideally, Birtwell would like to design a range of clothes for older women.  In her interview with The Telegraph she bemoans the lack of fashion for her age group and recounts how she was told by someone who is very influential but remains anonymous: 'Oh no, nobody buys clothes when they're over 60! Old people don't shop, only to go to a party or a funeral.'
Luckily for us Celia Birtwell is not so easily influenced by the opinions of others.
Celia Birtwell is available in hardback from 3rd October 2011, with Amazon doing discounted pre-orders for £20.99.