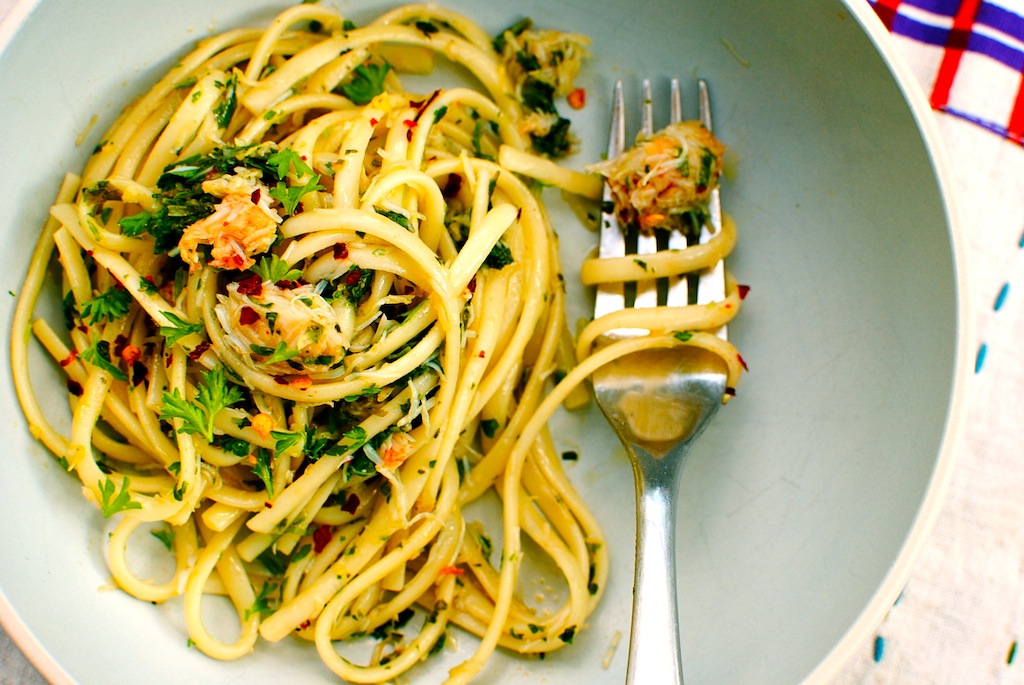 Crab is the featured shellfish this week in our second recipe by Elaine Hardie from the Fyfe Smokery, Dunfermline.
When buying crab, you have the choice – live and whole, or cooked and prepared for you. British brown crab is affordable and delicious and this recipe shows exactly how easy it is to prepare this versatile shellfish. The meat is sweet and delicate, and lends itself to many different recipes. It is in plentiful supply around the coasts of Britain, and Cornwall in particular prides itself in the locally caught varieties.
Linguine with crab and chilli
1 large fresh red chilli
1 fat garlic clove
4 spring onions
350g linguine or spaghetti
2tbs olive oil
1 tbs balsamic vinegar
Juice 1 lemon
250g white crabmeat
chopped parsley.
Method:
Deseed and finely chop the chilli. Slice the garlic clove and chop the spring onions. Boil the linguine until al dente, then drain. Meanwhile, gently fry the
chilli, garlic, spring onion and oil for 2-3 minutes. Stir in the balsamic vinegar and lemon juice. Toss in the cooked pasta and mix well. At the last
minute, sprinkle over the white crab meat, squeeze over the remaining lemon juice, parsley and season generously. If you prefer a creamy sauce, stir in some
creme fraiche at this point. Mix again and serve.