Design Dunfermline 2018, 25-29 April
The forthcoming Design Dunfermline 2018, a four day community event to come up with a shared vision for Dunfermline's town centre, has, like many things in Dunfermline, provoked two reactions. For the most part, the response is very positive and the Design Dunfermline team is pleased to report the bookings for free places at the event have been busy.
Then, there's the other reaction, from a smaller proportion of respondents: 'What's the point?', 'We've heard all this before and nothing ever changes', 'The town centre is rubbish, we need more shops' or 'Just cut the rates and that will solve everything'. The frustration is understandable. Actions speak louder than words and sometimes it seems like there are more words. Dunfermline like many other town centres, and cities for that matter, faces the current challenge of online shopping and the historic one of out-of-town retail parks.
However, can it be true to say that nothing ever changes?  It's right to say that there is no silver bullet, no pot of gold, and very few quick fixes. Nevertheless, the award-winning Dunfermline Carnegie Library and Galleries opened to national acclaim in early 2017,  created with the vision, and £11 million of funding, from Fife Council, the Carnegie Trust, and Fife Cultural Trust.  Since it's opening the venue has attracted 190,000 visitors, locals and tourists, to the venue. Fire Station Creative, the art gallery and creative hub, was kick started by a community group and has attracted international artists such as David Mach. The first Outwith Arts Festival, launched in September 2017, also received national media coverage and raised the profile of Dunfermline. The arts festival will be bigger in September 2018 and the team behind the festival plan to grow the event every year. Independent retailers continue to show faith in the town centre. Cafe Wynd, Baby Scan Studio, Sonia Harris Interiors and Sew Yarn Crafty are the recent additions – all these individuals are staking their livelihoods on this place.  Established businesses that have remained in the town centre for many years have also made a huge contribution to this Fife town.
When we're critical of the place,  where are we comparing Dunfermline to? Is it Edinburgh, and, if so, is that a fair comparison?
It's a well-worn cliche but places are about the people. How would you rate Dunfermline on its people?  When Dunfermline Comic Con was cancelled because of the Beast from the East, locals, who had never been to the Grainger family's shop, Little Shop of Heroes, walked into the shop and made a donation to their crowdfunding campaign. Comic Con aside, there's also a very long list of community groups and volunteers supporting the town in one way or another.
More people living in the town centre will bring another level of vibrancy. Two developers are creating contemporary flats in historic buildings, Pilmuir Works and the old Carnegie Clinic – both of which will improve the appearance of the town centre as well as bringing more people into the place.
All in all, these people feel pretty positive about the future of Dunfermline. May be they realise there is no choice but to be positive.  After all, that's the only way the future of our town centre will be safeguarded.
Check out local architect Sam Foster's summary below, of the events at Design Dunfermline, Wednesday 25 to Sunday 29 April. Please drop in to listen or to let us know your thoughts and ideas on Dunfermline Town Centre
Spaces are filling up fast for the Design Dunfermline 2018 events this week but you can still register at the Eventbrite page
Design Dunfermline is series of events to come up with a shared vision for the town centre – the outcomes are to identify short, medium and long-term projects to improve the town centre using Dunfermline's heritage. The funding includes a feasibility study and fundraising plan for at least one project identified during the four days.
We're starting on Wednesday 25th April at the City Chambers with focused group walks around Dunfermline, before using the nationally-recognised 'Place Standard' tool in the afternoon to record the current state of the town centre. On Wednesday evening we've got a spectacular line up of speakers at Dunfermline Carnegie Library and Galleries (DCLG) for a Pecha Kucha-style series of fast-paced tales about Dunfermline's history, businesses, tourism projects, greenspace and more.
Thursday 26th April kicks off at DCLG by assessing the findings from Wednesday together with recent reports and initiatives. In the afternoon we're holding workshops to develop key Themes for heritage-led improvements to the town centre. This is when pen will start to be put to paper and some big decisions made… We're repeating the workshops on Thursday evening for the who can't come along during the day, so there's no excuse to not come along!
On Friday 27th April we'll be furiously sketching up those ideas cemented over the last couple of days and you're welcome to come along and check progress, make suggestions and shape the direction of these ideas.
Sunday 29th April culminates the event with a presentation and exhibition of these ideas at DCLG, along with films from town centre activities we've been working on, details of the heritage audit we're carrying out as part of this and some very bonny pictures.
You can book your free place at our Eventbrite page, http://designdunfermline2018.eventbrite.com. If you'd prefer to email me directly, info@dunfermline.com  I'll put your details into Eventbrite. I've outlined each session below to help you choose which session you'd like to attend and there are more details on the website, http://www.dunfermline.com/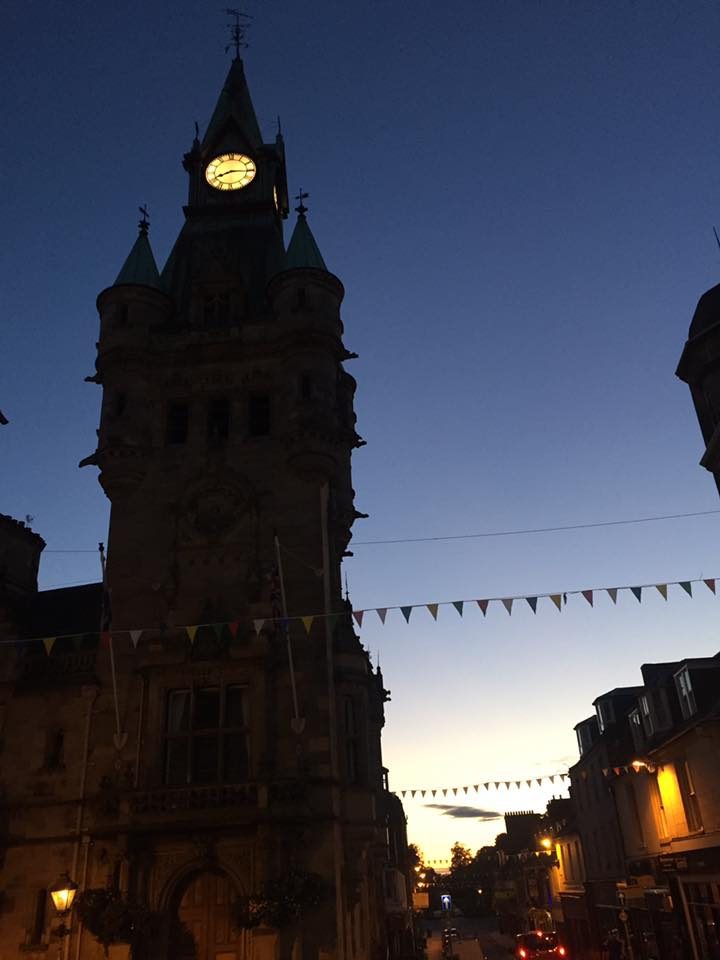 Photo below, by Jim Payne