One of the finest artists ever to come out of Dunfermline, renowned illustrator Jonny Hannah has an impressive new book out. Greetings from Darktown tells of a mysterious coastal town, not found on any map, peopled by pin-up girls, jazz artists and tattooed sailors. Darktown is home to the Unquiet Grave junk emporium; the Mermaid Café where Woody Guthrie still plays each week; McVouty's vintage clothes shop and a pier with a condemned helter skelter. Joining Hannah on his trip to downtown Darktown are the writers Philip Hoare and Peter Chrisp, who explore the eclectic influences on Hannah's work, and Sheena Calvert, who introduces a special typographic catalogue of hand-drawn lettering. As he tours Darktown, Hannah presents his prints and paintings in thematic chapters reflecting his passions – familiar to his fans – jazz, folk, the sea, space and shops.
Jonny Hannah's work has graced the pages of Vogue, the New York Times and The Boston Globe and was recently seen locally in the superb poster for new play Thieves of Dunfermline. He has also designed book jackets for Simon and Schuster, Penguin, HarperCollins and Candlewick Press.
Greetings from Darktown presents some 300 of Hannah's prints and paintings including new work created for this volume. The perfect Christmas present for the person who likes to hang out on the darker side of town perhaps?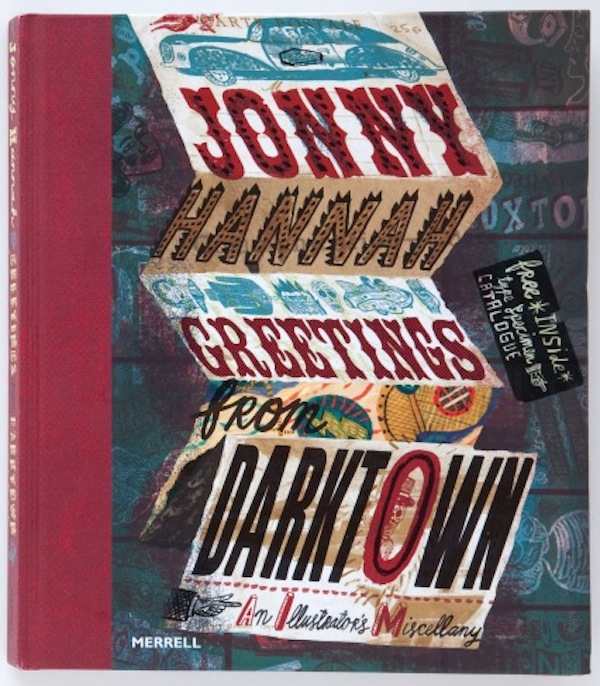 Greetings from Darktown
costs £30 in hardback and is available now. Buy your copy
here
.